How to Setup and Optimize Google My Business for HVAC
Google My Business recorded a 61% increase in calls from January to July 2020 alone. This means more customers using Google My Business to find your business are increasingly converting to paying clients.
But how do you get hold of this increasing number of potential clients as a small, upcoming HVAC company? Well, it's now much easier than you thought. Creating and optimizing GMB for your HVAC Company is not a challenging task.
In this blog post, we'll walk you through creating a profile on Google My Business from start to finish. We'll also give tips for optimizing your profile so that customers can find you when they search online.
Understanding Google My Business for HVAC: What is it?
Google My Business is a free service (tool) provided by Google to create profiles for your HVAC business. These profiles help customers find your company, get directions, and learn more about your offer.
Once created, the profile will be indexed in local search results on both desktop computers and mobile devices – so if someone searches for "HVAC in Seattle," your profile will appear.
The primary importance of this tool is that it helps rank your business in Google maps and search so that potential customers can more easily find you.
The best part of using GMB is that it costs you nothing and is a quick and easy way to improve your website's search engine ranking.
Stepwise Guide to Setting up a Google-My-Business Profile for HVAC
Setting up a GMB profile for your HVAC business shouldn't be a tiresome process, and we're here to help you make the most of it.
When creating a profile, remember that Google will use this as your "official" page for search purposes.
Here's how to create and optimize a GMB profile for your HVAC business:
Step 1: Go to Google My Business
The first thing you need to do is go to Google My Business. Search for it in the search bar and click on the appropriate result (it should be labeled "Google My Business"). Once there, you'll find yourself at a page that looks like this:
Step 2: Click "Manage Now"
After getting to the right page, you'll see a "Manage Now" button on the top right corner or the bottom left corner of the screen.
By clicking it, you'll be taken to another page where you can find and manage your business.
But this is only possible if you've already added your business to Google My Business profile before.
You'll need to add your business name first to register it in the Google database.
Step 3: Add Your HVAC Business Details to Google My Business
Here, you'll click "Add your business to Google," and you'll be prompted to fill out the information about your business. You'll see the "Create Profile" section.
In this section, you'll find two tabs requiring you to fill in your business name and your business category.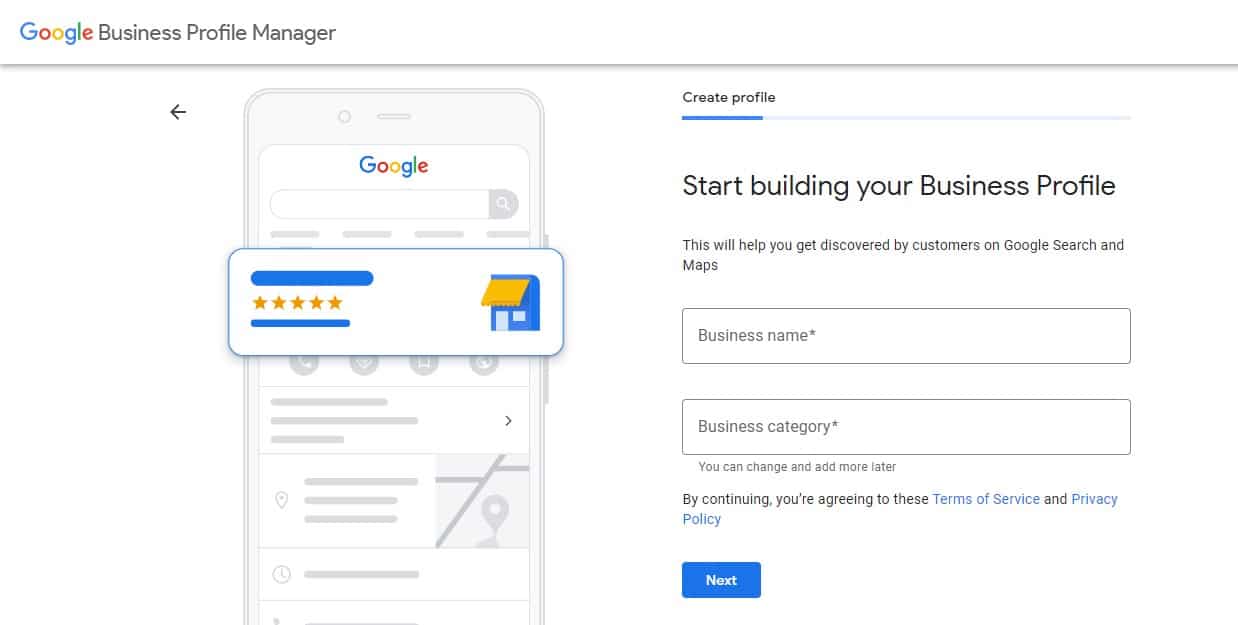 These two additions are crucial to determining how your business will rank on Google.
Be as specific as possible when choosing your category so that potential customers searching for an HVAC business will find you.
You need to consider some essential factors when picking a business name for your HVAC business. These factors include:
How memorable the name is
Its ease of spelling
Does the name have any negative associations?
Uniqueness
Ease of spelling, etc.
Once you pick the best name for your business, now it's time to pick the business category that best fits your business. Your category will help determine how your business will rank on Google.
Be as specific as possible when choosing your category so that potential customers searching for an HVAC business will find you. For example, if someone is looking for 'HVAC service,' they may end up clicking on a different result than another person who was specifically looking for 'HVAC Company near me.'
Once you've filled out your business information, click 'Next' to unveil the next step.
Step 4: Add Location and Address
Upon clicking the 'Next' button from the above step, you'll be asked if you want to add a location customers can visit or if you want to add your business to Google Maps.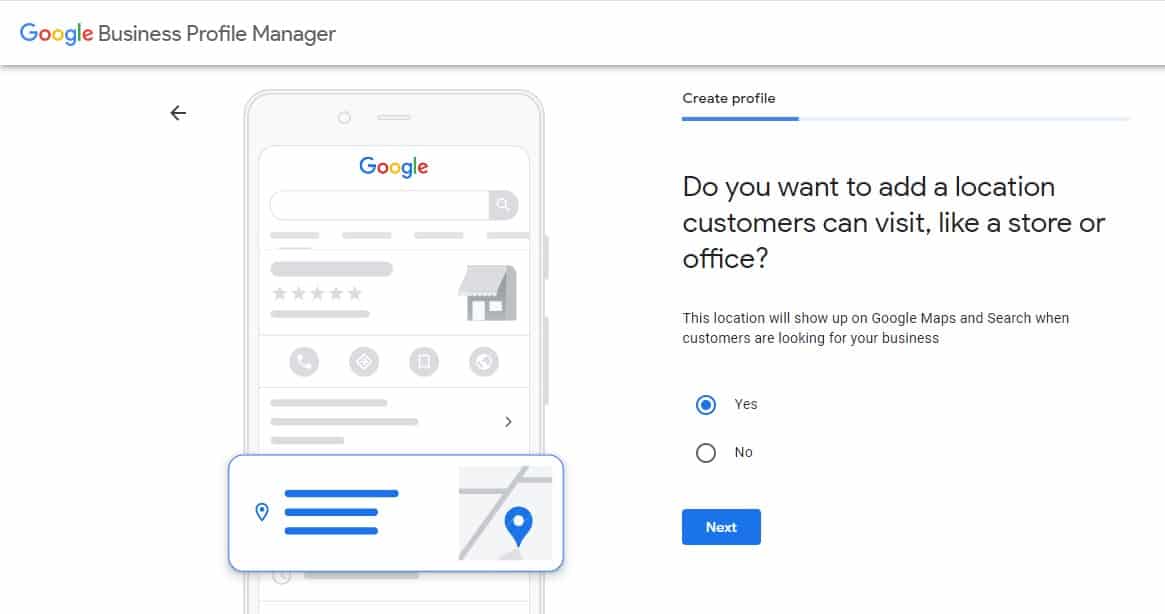 If you have a physical location, we recommend adding it here. Click 'Yes' when answering the above question to add your physical location. This will help customers searching for an HVAC company in their area find you easily.
If you add your business to Google Maps, ensure the address is entered correctly and completely.
Customers often search for businesses by entering their address, so it's essential to ensure an accurate address.
On the next page, you'll need to add your business address by filling up the country, street, city, state, and ZIP code boxes that are shown below: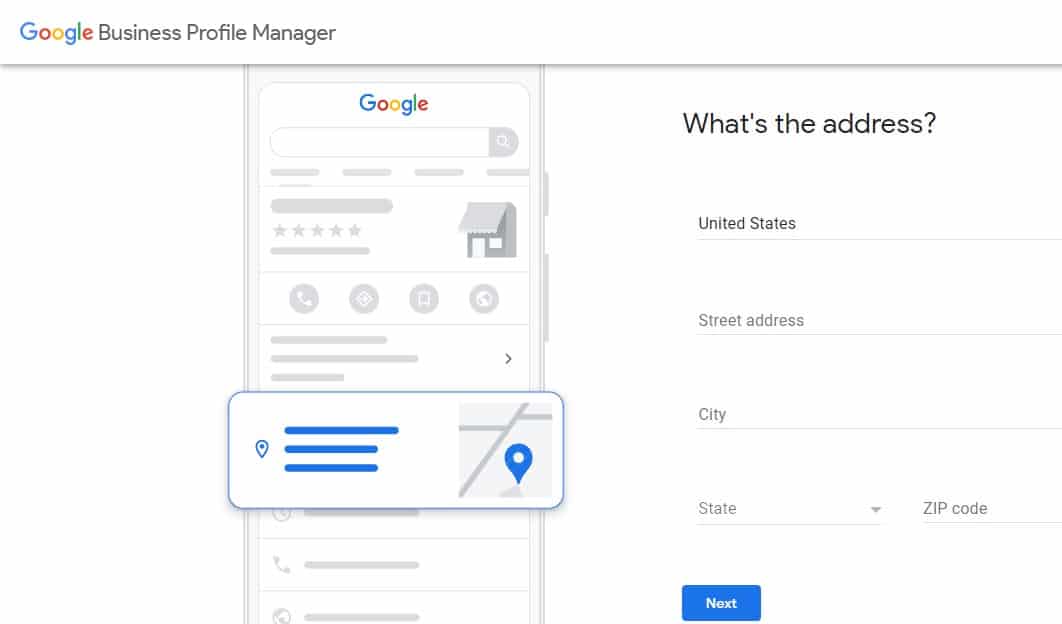 You can also include details of whether you provide home or office deliveries. Again, this can be a plus, especially if your competitors don't have these additional services in their businesses.
To add these details, you'll click 'Yes' in the prompt that appears on your next page, as you can see below: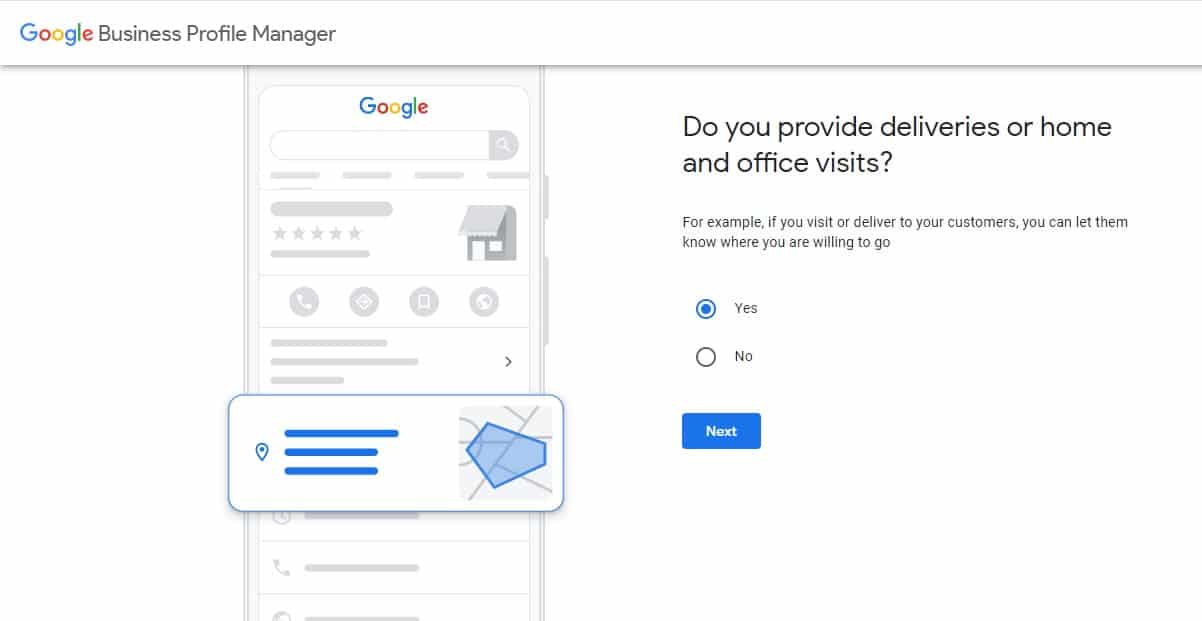 Step 5: Add the Areas You Serve
Once you've added your address, the next step is to add the areas you serve. This will help Google determine whether or not people in other parts of the country can find your business when they search for it on Google.
To do this, scroll to the next page, 'Add the areas you serve (optional)' section, and enter the states and city you service.
If you don't serve an area, leave it blank, and Google will not include those areas in its search results.
While this is an optional inclusion, leaving it unfilled can harm your potentials to beat your competitors.
As an HVAC contractor, adding the areas you serve is crucial because it:
Enables Google to bring up your business anytime people in the areas your business serves try to search for HVAC services near them
It helps you stand out as the most reliable HVAC service provider in these areas.
Significantly reduces your marketing costs
Once you've included all the areas you serve, you can move to the next step.
Step 6: Add Contact Information
Adding contact information is the next step in setting up your Google My Business profile. This includes adding your phone number and a website URL so that customers can quickly get in touch with you.
Keep in mind that when customers try to find your business on Google, they look for specific information such as the phone number and address.
This is an essential step because it enables people searching for HVAC services near them to contact you directly through their mobile devices or laptops without going out of their way.
Ensure that the information you provide is correct and up-to-date, so customers can always contact you without any problems.
Steps for Adding Contact Information:
Enter your phone number in the Phone Number field.
Next, enter your website URL in the Website URL field.
You should have something like this: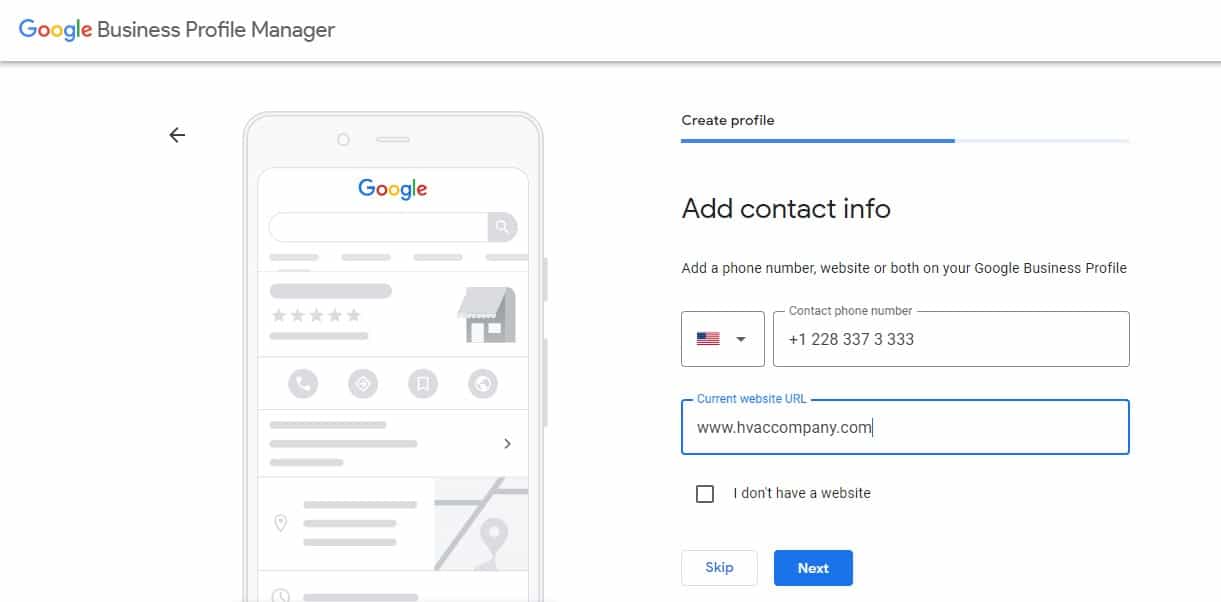 Adding contacts will help increase your conversion rates as you'll have closer access to your customer and a higher chance of convincing them into buying your services. You should, therefore, not skip this step either.
Step 7: Put the Notification Bell On
Google keeps changing the way they do things, and when such updates arise, you might not want to be left out in the old ways of doing things.
If there's a new trend that HVAC contractors follow, Google can send you such recommendations to update your profile.
The notification bell will keep you updated on such changes so that your business can stay ahead of the curve at all times.
On the 'Stay in the know' page, select 'Yes' to activate this notification feature. Before you click the 'Next' button, ensure you have something like this: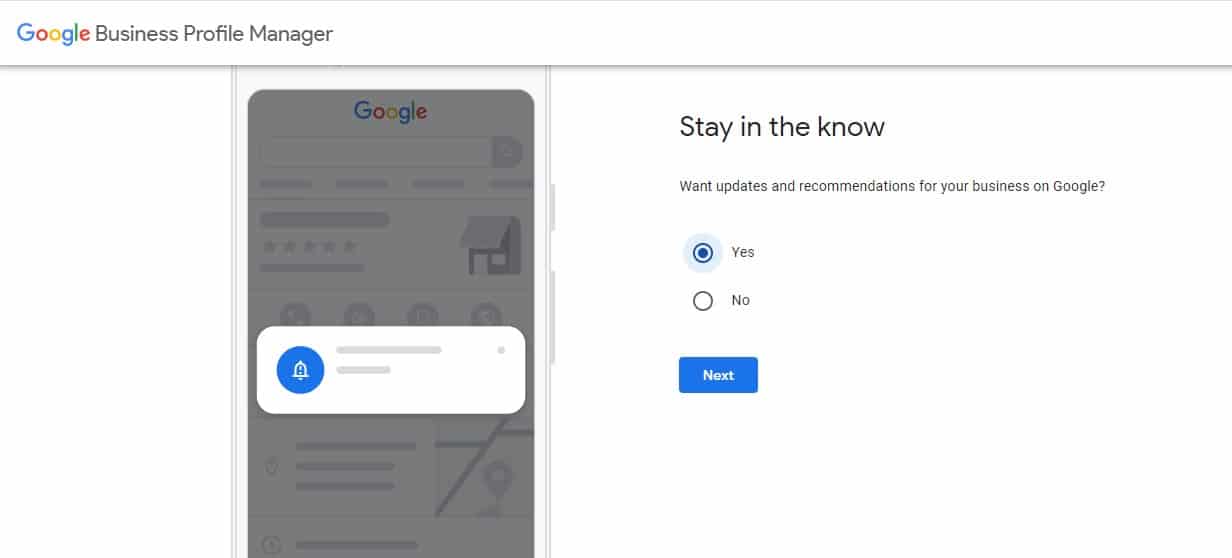 Step 8: Pick a Verification Method and Verify Your HVAC Business
How do you want to verify your business account once it's ready? This step allows you to pick a workable verification method that Google can send you a verification code for your business.
There are three ways you can choose to verify your account. You can either choose a phone number, postcard, or email. Select the best one for your company and click on 'Next.'
Once you've clicked on your desired verification method, follow the instructions to finish verifying your account.
With this step, your Google My Business profiles should be active and ready to go! You're now able to add more properties, change your business categories, and much more.
Step 9: Customize Your Profile
After you've verified your account, you'll proceed to the next step, which is to customize your profile. There are several ways you can customize your profile to make it stand out from other HVAC businesses.
Add Business Hours
One of the things you'll do to customize your profile is to add your business hours. This is important as it will allow customers to know when they can visit your business, especially if it's not open 24/7.
Click on the bars to indicate 'Open' for the days you're in the office and specify the hours you'll remain open for the day; what time do you open, and what time do you close for the day? Leave the bars 'Closed' for those days you're not in the office so that clients can know when to visit.
You should have something like this: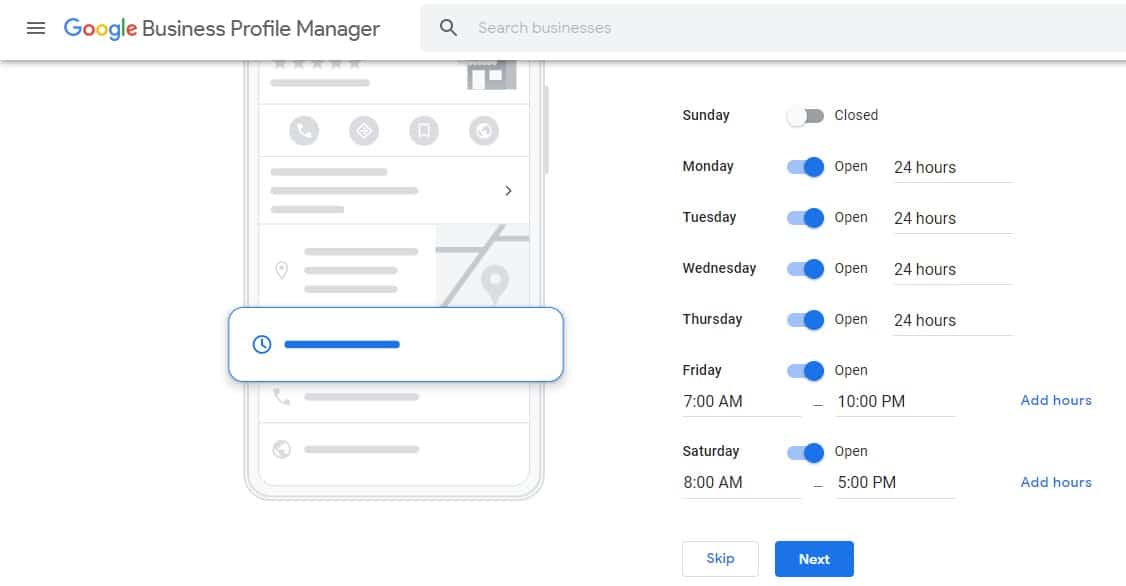 Once you're satisfied with your answers, you can now click 'Next' to finish setting up your business hours.
Add Messaging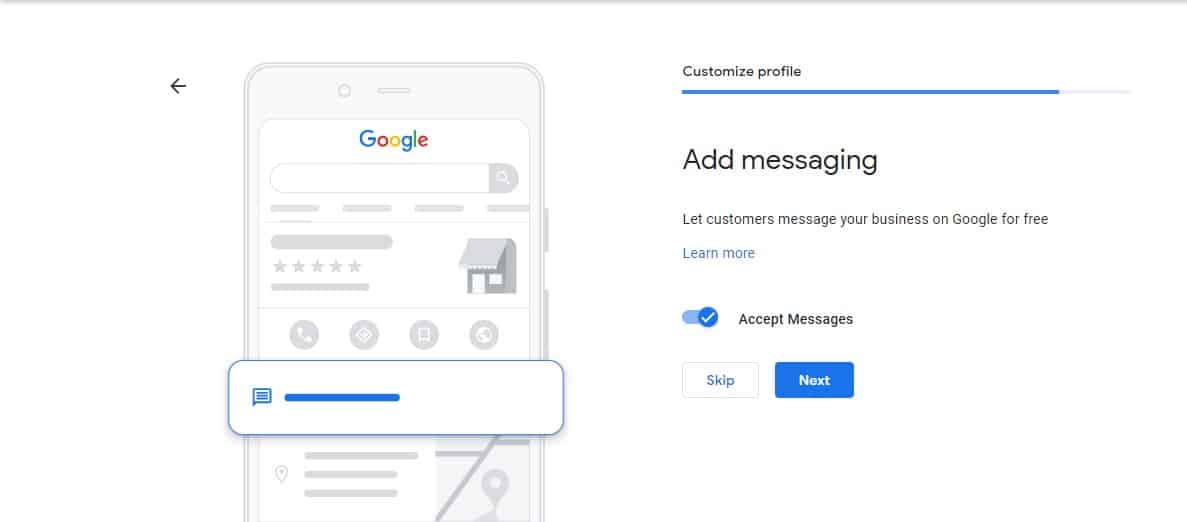 The next way to customize your profile is to add messaging. This feature will allow your customers to drop a message for free whenever they need clarifications or help with something.
Add an HVAC Business Description
Additionally, you can add your business description so that users will know more about your company and customize your profile even further.
Add a description of up to 750 characters on the box in the 'Add business description' page and click 'Next' when you're done. You should have something like this once done: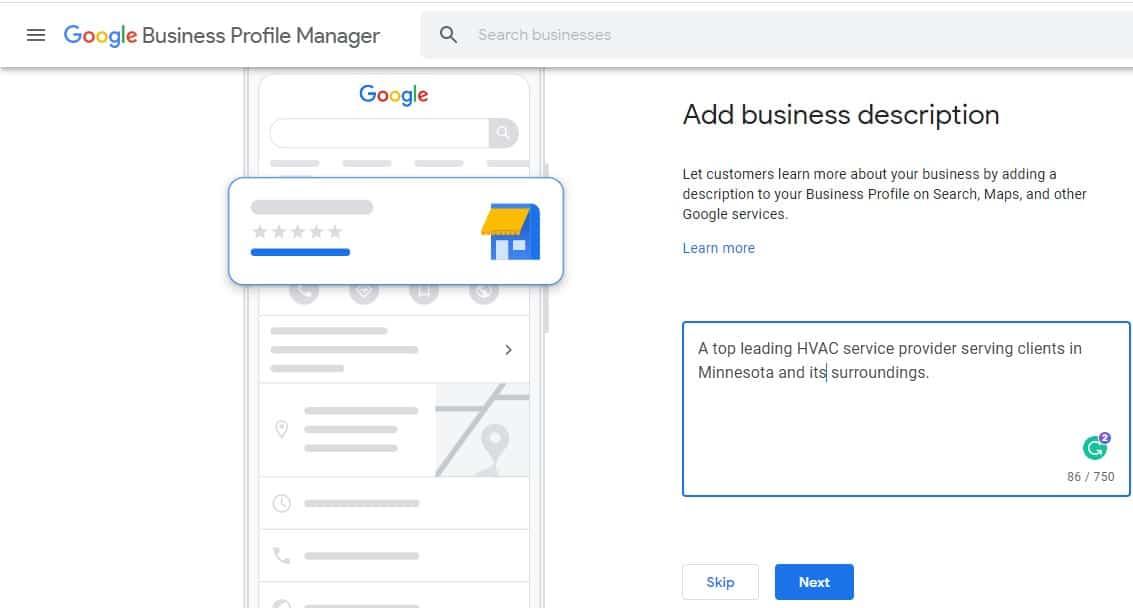 This description is for Google's indexing algorithm (SEO) to help your page rank higher on Google search.
Add Photos to Your Business Profile
You can also add several photos for your business profile to help users get an idea about what you're all about. For example, you can add a few images showcasing your products or the services you offer.
To add a photo, click on the 'Add Photos' button and upload them from there. You should know that Google will automatically pick up some images from your website when it crawls it – so make sure they're good quality and representative of your business.
This is how the 'Add photos of your business' page look like: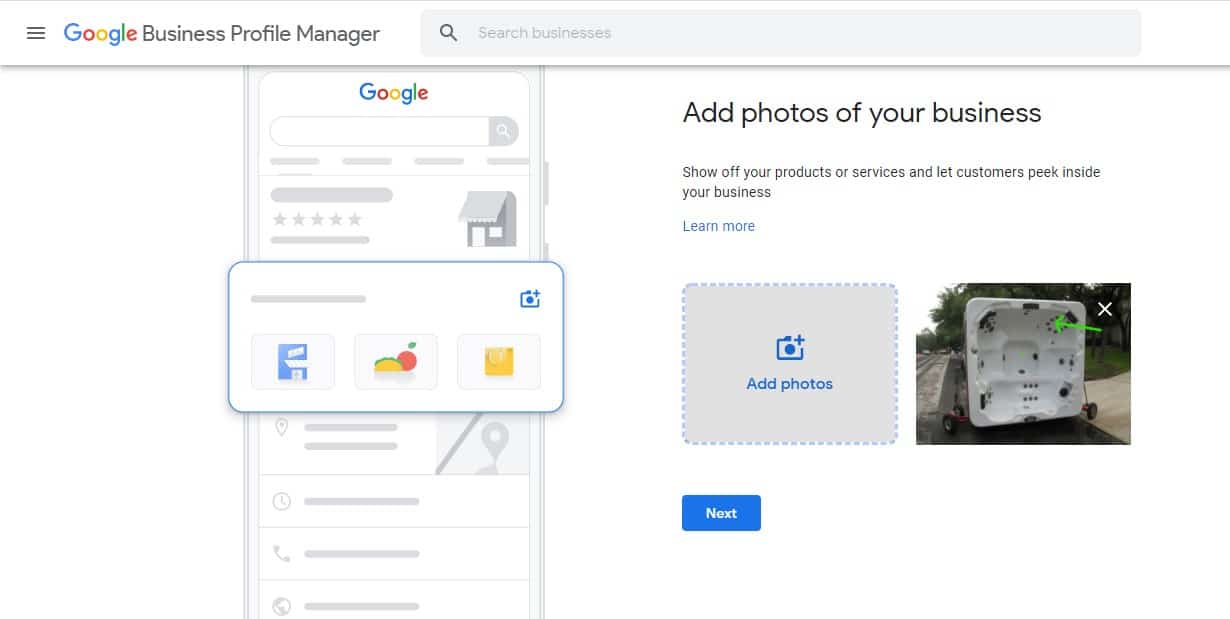 Once you're done adding photos, click the 'Next' button for the final step.
Step 10: Take Your First Action on Your GMB Profile!
Now that your GMB profile is created, it's time to start claiming and verifying your business. This will help Google display correct information about your company on Maps and other services.
You can share your first post, create paid adverts, and claim your business. Sharing posts frequently will help your business rank higher in local search results and increase your chances of converting your page visitors into buying customers.
Bonus Step: Optimize for Local SEO
Now that your GMB profile is ready, you can start optimizing it for Local SEO using different SEO strategies that relate to your business type.
One of the first things you should do is add categories and keywords that reflect your business type and services. You can also use this opportunity to list any awards, accreditations, or affiliations your company has.
Make sure to complete all of the information in your profile, including contact details, hours of operation, website address, descriptions of products and services, any recent news or announcements about your business, etc.
The main page should be dedicated to showcasing the best parts of your brand—be it awards you've won, special offers available only on your website, photos that showcase unique elements of your company culture (e.g., employees working together), or customer reviews.
Let Us Help You Grow Your HVAC Business
At Cube Digi Media, we specialize in helping businesses and organizations optimize their SEO and outsmart their competitors. We do this by helping you set up your Google My Business profile. We have the right expertise and concepts to help your HVAC business succeed in the online world.
Contact us today for more information.