Life Coach Austin SEO Case Study | Increase Calls by 111%
Did you know that 46% of all Google searches are looking for information about local businesses? Yes, if your business isn't optimized for Google local search, you're missing out on potential customers looking to buy in your local area.
Local search optimization is a must-do if you want your local business to stay relevant to your local community.
If you're looking to rank higher in Google local search and increase revenue, you've stumbled onto the right page. In this case study, we're going to show you how we helped Life Coach Austin achieve this in just 7 months.
Life Coach Austin Local Keywords Ranking Data
Checkout how Life Coach Austin ranked their local keywords on Google Search.
So without further ado, let's get rolling.
Client Overview
Client: Life Couch Austin
Industry: Life Counselling
Challenges: Not ranking higher in Google local search resulting in fewer call inquiries.
Goals:  To optimize website and Google My Business profile to rank higher in Google local search and increase call inquiries from life and marriage counselling.
Services Provided: Local search optimization for website and Google My Business listings.
Duration: 7 months
Who is Life Coach Austin?
Life Coach Austin focuses of personal and professional life coaches is on the present and the future rather than your past.
They do address past life difficulties, but put greater energy on change and resolution. My goal as a coach is to help bring light, hope, encouragement, and insight into your life.
Life Coach Austin works with a team of experienced and professional and specialists who are committed to counselling.
Our client is, therefore, strategically located and well-positioned to outshine all the competing companies around Austin.
However, our client is still not getting many calls from the customer due to various reasons as you will see below.
Issues
Website and Google My Business listings not optimized for local search.
Website images and content not optimized with location-specific keywords.
Website not optimized for mobile use.
Local on-page SEO issues.
Webpages not indexed properly.
Slow website speed.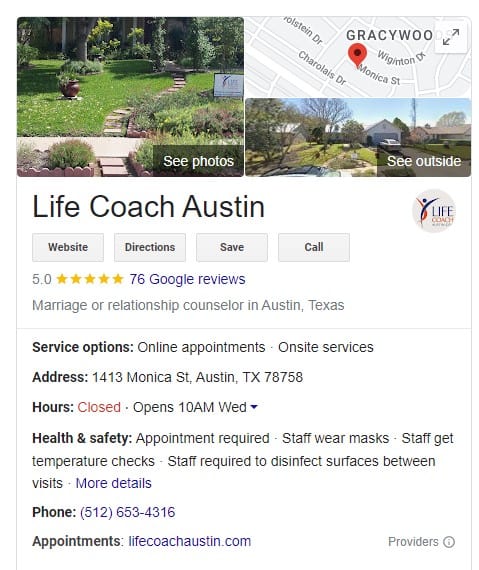 Our Strategies and Solution
When we first started working with this client, the website and Google My Business listings weren't appearing on local SERPs.
This was a great opportunity for us to work things around and help our client get more call inquiries from local customers.
Here are the strategies we implemented to improve our client's website and Google My Business listings rankings:
Created an Effective Local SEO Strategy
There is no denying that ranking top on Google local search enables you to attract more eyeballs to your local business thus increasing traffic and leads to your business.
Unfortunately, Life Couch Austin couldn't appear on local searches. This made our client lose a lot of potential clients to other companies offering similar services.
We changed the game by launching a powerful local SEO strategy that involved the following steps:
Listed Life Coach Austin to Google Maps.
Optimized website and GMB profile to rank higher on local search results.
Listed website on top of industry-specific directories.
Improved Website Content    
Initially, our client's website had no image.
As you're already aware, images increase engagement by 650% than text-only content.
First, we added beautiful images to add beauty to the website. We then researched local-specific keywords and optimized images as well as the website content with high-ranking keywords.
Optimized Website for Mobile Users
Half of web traffic worldwide comes from mobile. After auditing our client's website, we noticed that the website wasn't displaying content well on mobile devices. We began by testing the site using Google's mobile-friendly tool and then optimized it thoroughly so mobile users can access the website easily.
Indexed All Webpages on Google
We already understand that Google ranks only 5.7% of newly-published pages into the top ten results within a year.
But this couldn't stop us from helping our client index all web pages on Google.
We used Google Search Console to index all the pages.
We Fixed Website Speed
64% of mobile users expect a web page to open in 4 seconds or less. Our client website had loading issues. It could take more than five seconds to open a web page.
We first ran a website speed test and optimized the website for speed.
The Results
We've been working with Life Coach Austin for almost 7 months now and we're proud to announce amazing results as follows:
Increased calls by 111% within two months.
Increased website traffic and Google My Business listing visits by 234%.
Increased daily sales by 88%.
 Your Next Steps?
If you're looking to dominate local searches we're here to help you. We're specialists in local SEO services. Get in touch with us at info@cubedigimedia.com or request a free quote by filling out the Contact Form on our website.