7 Digital Marketing Ideas For Plumbers to Help You Grow Your Business
Are you struggling to grow your plumbing business? If so, then these 7 digital marketing ideas for plumbers can help you.
Running a successful plumbing business comes with a whole set of unique and daunting challenges.
Unlike other sectors, you only have to target two types of customers every time:
The one that needs emergency plumbing services due to a broken pipe.
The customer who needs a new installation or routine maintenance.
Remember that the customer who needs emergency plumbing services doesn't have the time toresearch and compare prices from different plumbers.
To help serve all these types of customers, you needto create one or a couple of these seven powerful marketing strategies: Website design, content marketing, search engine optimization (SEO), pay-per-click (PPC) advertising, social media marketing, video marketing, and email marketing.
We're going to talk about each one of these digital marketing strategies in a moment.
But before that, let's understand a few things.
undefined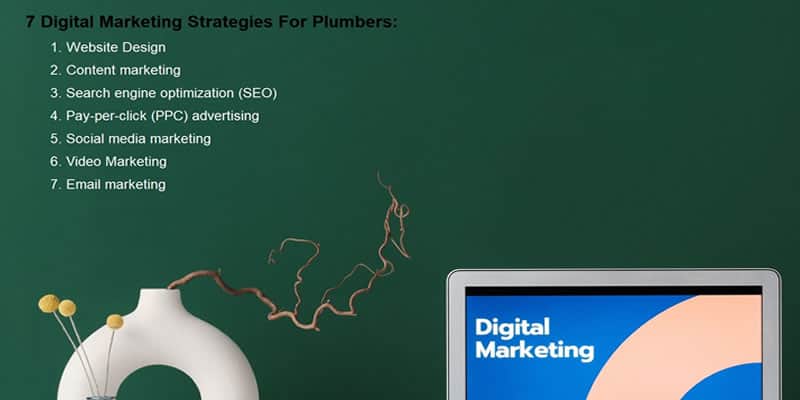 Why Invest in Digital Marketing for your Plumbing Business?
Gone are the days when plumbers could place ads in local newspapers, air commercials on television, or distribute fliers and get good results. These traditional marketing methods aren't only ineffective but are also expensive.
Aside from that, today's customers are digital. If they want their broken pipes repaired, they turn to the internet and find a professional plumber instead of reading newspaper ads.
This explains why you should invest in digital marketing for your plumbing business.
Digital marketing helps you to reach a huge audience and engage with more potential customers.
Digital marketing also offers simple and convenient ways to convert prospects into real customers.
With digital marketing, you can interact with people who are interested in your services 24/7 using automation and other digital marketing strategies.
This helps to increase brand awareness and increase sales.
That said, here are the digital marketing strategies to help you grow your plumbing business:
7 Digital Marketing Strategies For Plumbers
Website Design
Content marketing
Search engine optimization (SEO)
Pay-per-click (PPC) advertising
Social media marketing
Video Marketing
Email marketing
Before we get started, it's important to let you know that there is no one-size-fits-all strategy. You also don't need all these internet marketing techniques. Just choose one or a couple that suits your business and plumbing customers to see the results before adding another one to your digital marketing arsenal.
Let's get started.
Website Design and Optimization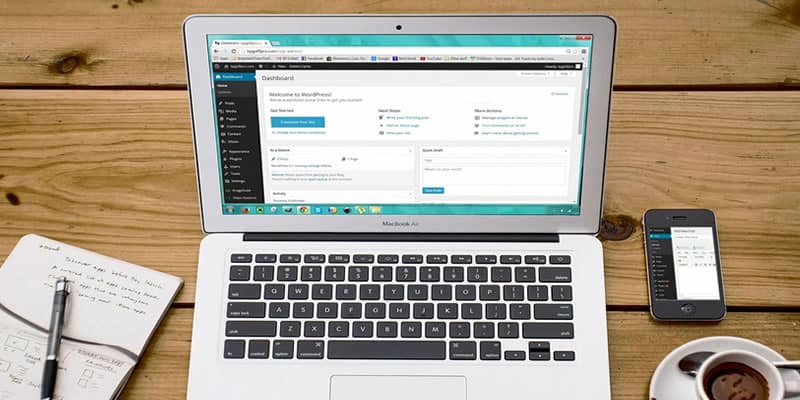 To be successful in digital marketing, you need to build a website for your plumbing business and optimize it for local SEO.
Your website is like your24/7 online physical store. It's your first point of interaction with potential customers looking for your plumbing services.
Note that designing a website is one thing. You also need to make it usable for every customer no matter the device they are accessing it from.
Here is how to make your website usable:
Optimize it for mobile users
Approximately 70% of web traffic comes from mobile devices. Besides, 80% of the top-ranked websites are optimized for mobile users. Your website must be usable both on desktop and mobile devices if you don't want to miss out on this huge traffic.
40% ofonline consumers abandon a website that takes more than 3 seconds to load. Your website needs to load fast, thus you need website speed optimization.
Improve your website navigation
94% of online consumers say your website must be easy to navigate. Allow your website visitors to find your services fast by having proper internal links, clear navigation, and giving them content that serves their needs.
The call-to-action(CTA) is one of the most important features to have on your website. Unfortunately, 70% of small business websites lack this feature on their homepage. When customers land on your website, they want to know what you want them to do.Place strategic call-to-action buttons to allow your customers to take the necessary action.
We're assuming you already have a website for your plumbing business. But even if you don't have one it's not too late to have one. Get in touch with us we design and optimize your website for speed.
Content Marketing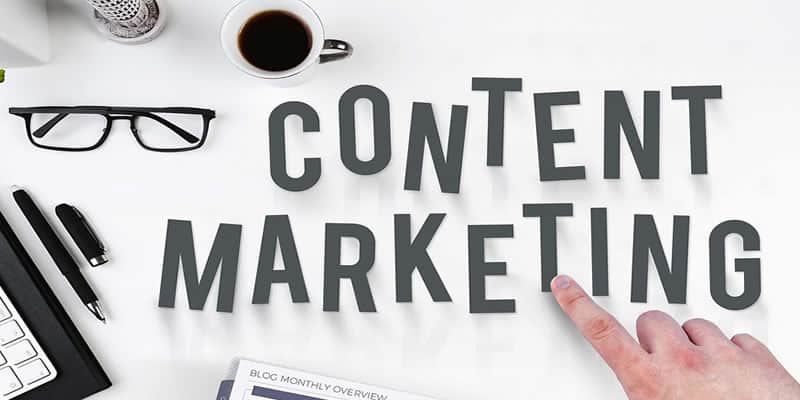 Content marketing is an effective marketing strategy that helps you to create brand awareness and generate leads for your plumbing business.
See, when someone has a broken pipe, they need emergency plumbing services. That means that they have no time to read recommendations and compare prices from different plumbers. For this reason, it's easy to think that content marketing is a waste of time.
Think again.
Content marketing allows you to create and distribute valuable, relevant, and consistent content to attract and keep a clearly-identified audience. Content marketing is what makes customers know that you exist.
Content marketing makes you establish your authority as a plumber so that consumers can run to your services whenever they need them.
You can create content in different forms such as whitepapers, articles, eBooks, how-to videos, and infographics and share them with your audience via your blog or social media platforms.
Content marketing tips for plumbers
Here are a few tips to help you create content that attracts qualified leads to your plumbing company:
Focus on relevant topics
Focus on what customers are looking for
Answer your customers' questions such as "how do I replace a water heater", "how do I stop a faucet from leaking" and many others.
Search Engine Optimization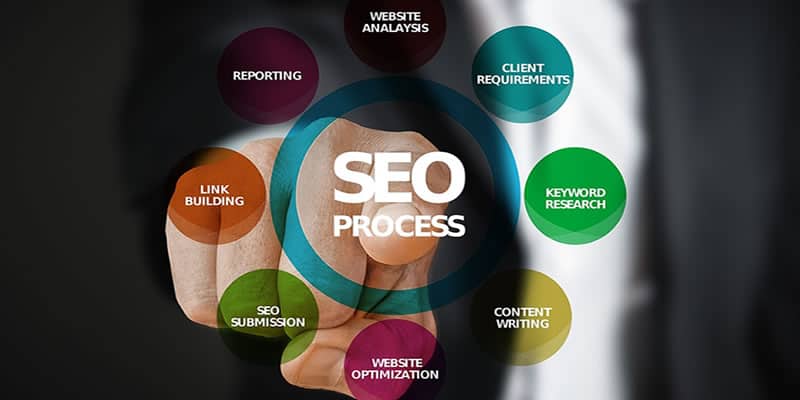 SEO for plumbers is an investment with great results. Multiple studies suggest that 93% of all online searches begin with a search engine; Google, Bing, or Yahoo. Customers looking for plumbing services also search online to find contact information for plumbers, thus you should invest in SEO for your plumbing business.
After designing a website and creating a Google My Business for your plumbing business, the next step is to make all your entities visible online by optimizing them for local SEO.
A study by HubSpot reveals that Google's Local 3-Pack appears in the top spot of 93% of searches with local intent.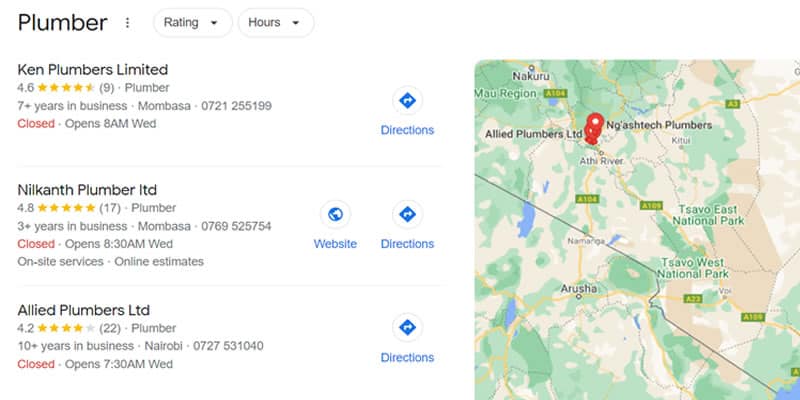 That means that Google's local 3-pack shows up almost every time homeowners search for plumbers near them hence you should optimize your website and Google My Business to increase your visibility in local searches.
Here are useful tips to optimize your plumbing website and Google My Busines listing for local SEO:
Add keywords with local intent to your headings tags>>H1, H2, H3,… on all pages and content.
Optimize your page's meta description and title tags for local search.
Optimize your website's content for local SEO.
Add a consistent NAP across all your online platforms including website, social media, and Google My Business.
Fill out all sections of your Google My Business listing including categories, description, hours, services, etc.
Pay-per-Click Advertising (PPC)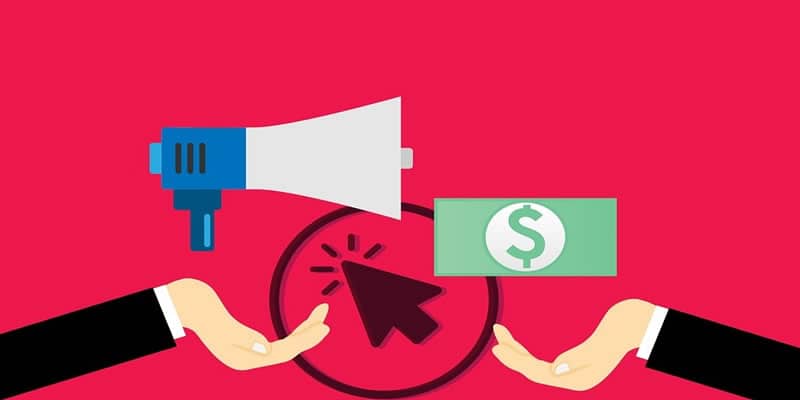 If you're looking for immediately plumbing leads and a great ROI then pay-per-click advertising is the suitable digital marketing strategy for you.
Similar to all the strategies discussed in this article, PPC ads enable you to improve the visibility of your plumbing services online, but this strategy does more than that.
When a homeowner searches for plumbers near them, PPC Ads appear at the top of all search results.
There are several types of PPC ads you can use for your digital marketing campaigns including:
Search Ads
Display Ads
Social media Ads
Remarketing Ads
Video Ads
PPC for plumbers is beneficial in many ways as below:
It's cost-effective;
Delivers fast results;
Offers detailed results tracking;
Allows precise targeting- You can use remarketing, demographic targeting, and in-mark targeting.
It also helps to attract qualified leads.
You can also maximize results with a custom PPC strategy for plumbers by following the tips below:
Conduct competitor research
Create a custom strategy
Conduct keyword research
Develop a catchy ad copy
Optimize your ads
Track your results and adapt.
Email marketing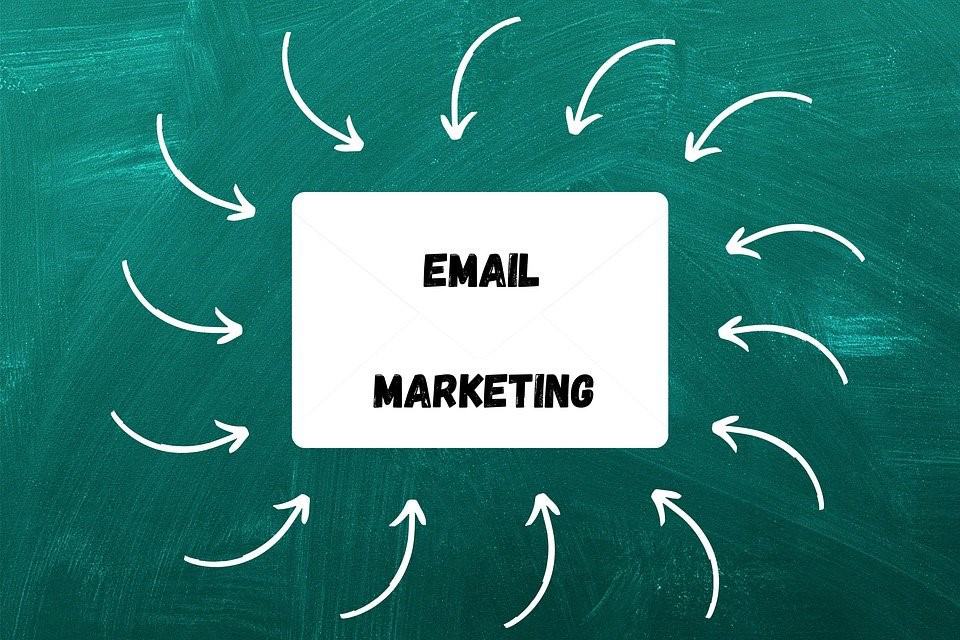 Email marketing is how plumbers nurture prospects while staying in touch with previous customers. It's one of the easiest and cost-effective digital marketing strategies to help you grow your plumbing business. Email generates an ROI of $42 for every $1 spent.
Granted, promoting your business to both potential and existing customers should be your top priority as a plumber.
Email marketing for plumbers can help generate more sales by offering coupons, specials, and rebates, improving brand awareness, and more.
If you wish to start an email marketing strategy for your plumbing business, follow the tips below:
Have a solid plan
Build an email list
Create valuable content to share with your customers
Create awesome email copies
Track your metrics
Segment your audience by interest and sales funnel
A/B test your emails
Automate
Video Marketing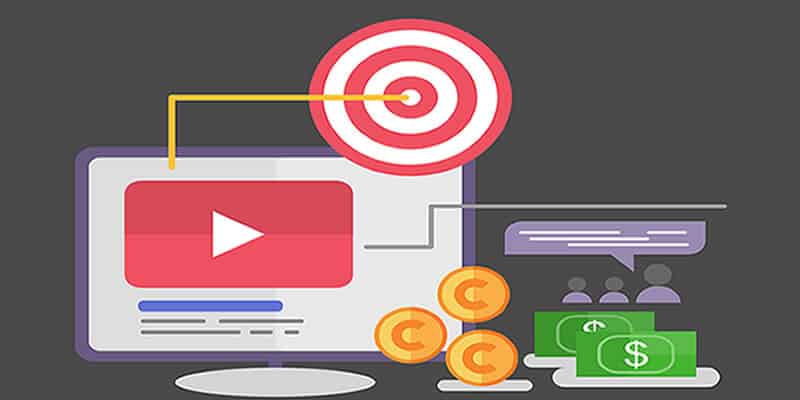 By 2022, 82% of all consumer internet traffic will be generated by online videos. When you create videos for your plumbing business, you improve your SEO while establishing yourself as an expert in your community. Creating interesting and engaging videos can help to increase engagement on your website and demonstrate what makes your plumbing business unique to your customers.
The best thing is that you can add videos to your website, social media platforms, and Google My Business listing.
Here are video marketing tips to guide you:
Keep your videos less than two minutes long. Videos that are up to 2 minutes long get the most engagement.
Place videos on strategic locations on service pages, landing pages, within your content, and any relevant page. Including video in a landing page can increase conversion by 80%.
Social Media Marketing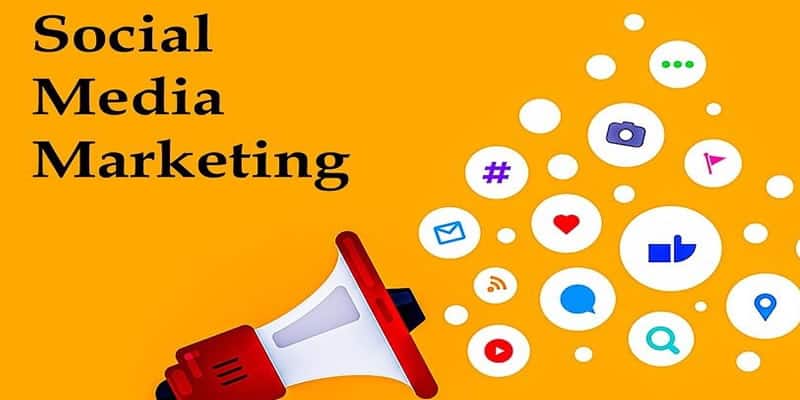 Over 91% of businesses. If you don't have a social media page for your plumbing business, you're giving your competitors the edge over you.
A more recent study suggests that there were 4.2 billion social media users at the start of 2021.
Undoubtedly, social media marketing is the way to go for your plumbing business.
Social media allows businesses to interact with their customers.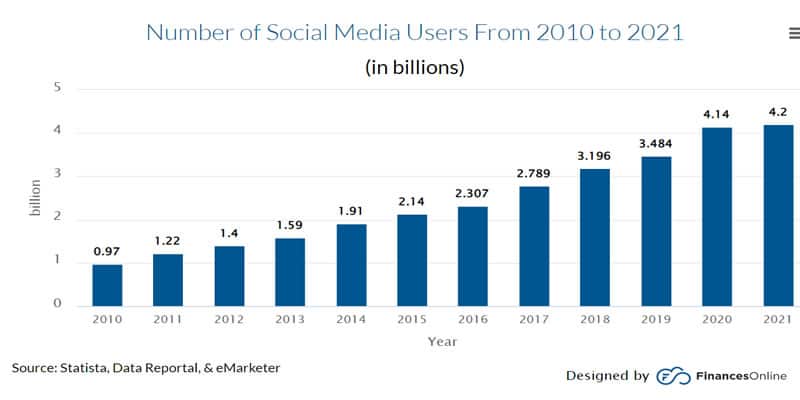 Social media users 2010 – 2021
Why use social media for plumbers?
There are many reasons to use social media as a plumber:
You can reach and target a large audience
Social media allows you to build your plumbing business brand and authority
It helps you to build relationships with your customers
Generate qualified leads.
If you aren't already on social media, create your business profiles on the following platforms:
Facebook
YouTube
Instagram
LinkedIn
Google My Business
Twitter
Include your social media properties on other digital assets such as your email signatures, website's footer, digital marketing materials, printed marketing materials, and more.
Let Us Help You to Grow Your Plumbing Business!
At CubeDigiMedia, we're a team of digital marketing experts who work with companies of all sizes to help them grow their businesses by using digital marketing strategies that generate results. We specialize in the following services: Digital Marketing Website Speed Optimization GMB Optimization WordPress Web Design Google Analytics Service Branding & Social Media, Article Writing, Logo Design, and Technical SEO.
Contact us today to learn more about our services and how we can help you grow your business online.
Let's take your business to the next level.