Why Digital Marketing Is Important For Small Business
Are you doing digital marketing for your small business? If not then you better start investing in digital marketing because 87% of online shoppers start searching for products to buy on the internet. But that's not the only reason why digital marketing is important for small businesses.
In this article, you will discover several reasons why any small business including small brick-and-mortar should invest in digital marketing today. After all, you don't need a huge budget to do digital marketing.
Read on to learn more.
What is Digital Marketing?
Digital marketing encompasses all forms of marketing that use electronic devices or the internet to deliver promotional messaging and measure its performance.
Typically, digital marketing happens on channels like social media, websites, search engines, email, and more.
You can think of digital marketing as the advanced form of traditional marketing like magazine ads, billboards, direct mail, etc.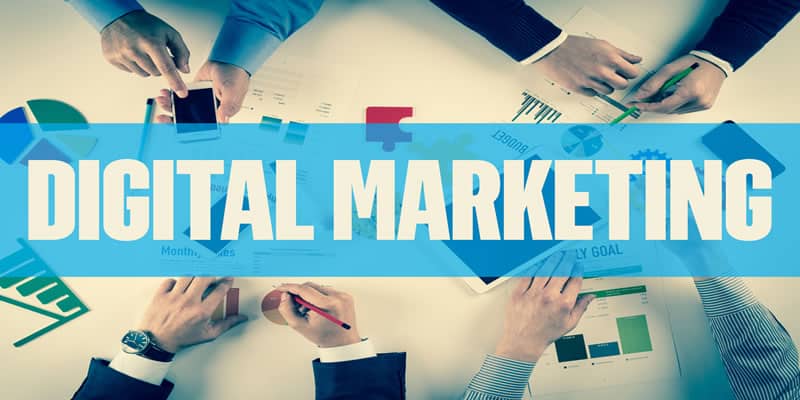 Digital Marketing vs. Inbound Marketing: What's the Difference
There is a lot of jargon thrown right, left, and center in the online marketing world. Online marketing, call-to-action, SEO, digital marketing, inbound marketing, influencer marketing are just a few of the terms you must understand for you to run a successful online business.
So what's the difference between digital marketing and inbound marketing?
The two terms are easily confused by people.
To make things clear, digital marketing is a broader term used to describe all kinds of marketing activities carried out via electronic devices on the internet.
On the other hand, inbound marketing is a more customer-centered approach to creating valuable content that your target audience is interested in consuming as opposed to just advertising your products or services.
Digital marketing includes content marketing, social media marketing, search engine marketing, email marketing, and pay-per-click advertising.
On the other hand, inbound marketing focuses on providing valuable information you're your target customers want in the form of a blog, eBook, a checklist, etc. using or digital marketing tactics.
Digital marketing is for short-term goals that increase brand awareness whereas inbound marketing is for long-term goals that generate qualified leads and turn them into paying customers.
Ready to learn the importance of digital marketing for your small business?
Alright, let's dive in.
Digital Marketing is a Powerful for Boosting Conversions
Digital enables faster conversions.
With digital marketing, the next step your customer takes is to take action after viewing an ad or reading your content.
On the other hand, with traditional marketing, what you can expect after a customer views your ad on TV or sees your billboard is a phone call.
Given how busy life is, someone driving home from work will have no time to make a phone call after seeing a billboard ad.
With digital marketing, all the customers need to do is to click a link or ad, land on the product page, and purchase the item.
And even if they don't take the intended action immediately, they'll stay connected with you so you have a second chance to convert them into buying customers.
Also, your customers are online. And digital marketing offers you a multichannel approach to reach, engage with them, and convince them to take an action.
Think about it:
81% of consumers use the internet to find products or services.
Multiple surveys have shown that 41% of US digital shoppers search and buy on Amazon while 34% search on Google before they are taken to the Amazon online store.
Over 5 billion people(approximately 57.6% of the total global population) use social media globally
Besides, there are different digital marketing channels to take advantage of to reach the right audience and convince them to buy.
The good news is that even though each digital marketing channel uses a different marketing approach, it's easy to fine-tune the message to make it suitable for a different audience and boost conversions.
Digital Marketing is Cost-Effective
It costs $750 – $1,500 per month or $80 – $130/hour to hire a freelancer to create promotional content for your small business.
You can even spend Facebook: $0.25 to reach over 1,000 people.
On the other hand, a TV ad will cost you $28, a direct mail $57, and a newspaper ad will cost you $17 for every 1,000 people you reach.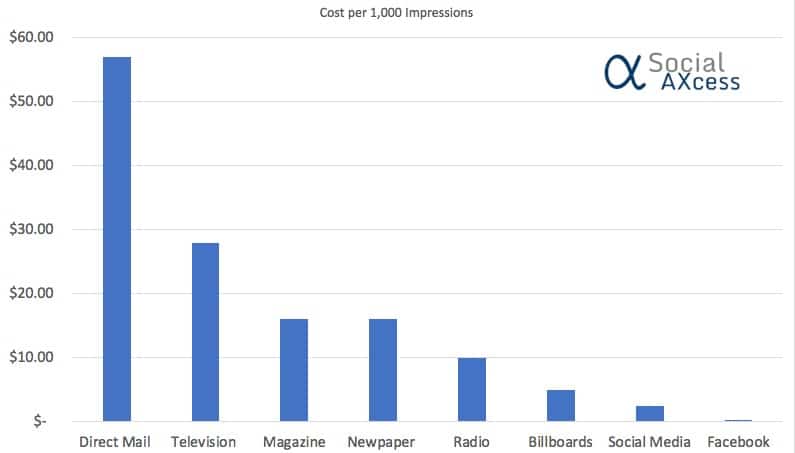 (Source: Social AXcess Consulting)
This implies that digital marketing is cost-effective than traditional marketing. Besides, the former allows you to reach a huge audience.
As you can see, your small business just can't afford to use TV, billboard, or radio advertising.
Another disadvantage with traditional marketing is that you get less control over who sees your message in the first place.
For instance, with TV advertising, the media house decides when to show your ads. You can't dictate for them when to show your ads.
Digital Marketing Results Are Measurable
For small businesses, the last mistake you want to make is to fail to measure the results of your marketing campaigns.
Thankfully, with digital marketing, you can measure all the important metrics including shares, clicks, views, impressions, and more.
This means that you can tell what's working, what's not working, how, and when to improve.
This allows small businesses to invest small in marketing, test, and see results first before they invest hugely.
With traditional marketing, there is a limitation in measurability.
When you create a TV ad, you can't tell how many people have seen it, their impressions, or what they think about your products or services.
The same applies when you put a newspaper ad. You can't estimate how many people read the newspaper or pay attention to your ad.
Your Competitor is Already Using Digital Marketing
If you're not doing digital marketing then you're missing out on huge business opportunities for your competitors because most of them are already using email marketing, influencer marketing, and other types of digital marketing.
You can start by spying on their websites or social media channels to know the digital marketing strategies they are using.
Check to see how regularly they publish new content on their websites or social media.
The good news is that the internet is chock-full of digital marketing tools that allow you to see the kind of ads your competitor is running.
You can also search your competitor's website on Google to see if there are any websites mentioning or linking to them. Use Ahrefs site explorer.
The key thing here is to find out as much as you can about your competitors, so you can see how they are doing things differently.
Digital Marketing Allows You To Reach Customers Where They Are
Your customers are online somewhere. Over half (57.6%) of the total world's population uses social media. Your customers are online often.
They are searching for products related to your business on social media networks, looking for information they need on search engines and are playing games on apps or watching videos on YouTube and other platforms.
With digital marketing, you can reach all these customers and deliver your message at the right time they need it.
The best part?
You don't have to leave a dent in your bank account to achieve that.
Digital Marketing Enables Customers to Find Products or Services With Ease
Consumers start their search for products or services on the internet, particularly on Google.
Digital marketing enables small businesses to have an online presence so that consumers can find products or services they are interested in buying.
Creating a Google My Business listing costs $0 and can help small businesses share information with their target customers with ease.
Personalization
With digital marketing, you can use tons of tools to gather precise and specific data about your customers.
Equipped with this information, you can personalize and optimize your campaigns to reach the right audience.
You can also use the information to determine when and where your customers spend most of your time so you can connect with them at the time when they are looking for your products or services.
You Reach an Interested Audience
Assuming you put an ad in a magazine or placed an advertisement on TV or billboard, it's going to be seen by interested people and those who aren't.
This can be a waste of time and money since there is no point in showing your ad to people who aren't interested in your products.
Unfortunately, you don't have control over who sees the ad.
The good news about digital marketing is that you can reach only customers that are interested to buy your products or services.
Yes, with digital marketing, you can identify target customers based on several factors such as age, demographics, interests, etc. You can then send these customers personalized and high-converting marketing messages.
For instance, social media's targeting features allow small businesses to display social media ads to a specific audience based on their location, behaviors, age, interests, gender, etc.
Besides, digital marketing enables you to research your customers based on their personas so you can refine your marketing strategy to ensure you're reaching only prospects who are interested to buy from you.
Digital Marketing Offers Equal Opportunities To All
To some extent, traditional marketing wasn't meant for small players. It was meant for the big guys.
Small businesses don't have the budget to place ads on TV or put billboard ads.
Fortunately, digital marketing offers plenty of business opportunities for all. This means that your small business can outrank the big boys who are heavily invested in traditional media.
Search engines also don't care whether your business is small or not.
For instance, you can identify a high-ranking keyword related to your products or services and target it with high-quality content to improve your rankings in search.
You can also use influencer marketing to reach a new and interested audience.
Digital Marketing Enables Relationship Building
Building a lasting relationship with customers is the struggle most small businesses face.
The good news is that most of your customers are using the internet almost daily.
All you need is to increase your digital marketing efforts to meet, connect with them and build a lasting relationship.
Your Customers Expect You to Be Using Digital Marketing
In today's digital world, customers expect to find businesses they are interested to form a relationship with online.
When customers want to learn about a business, they look online on websites, social media, etc.
If you don't have an established online presence, customers aren't going to learn more about your business and will likely end up buying from your competitor.
Digital Marketing Enables Trust Building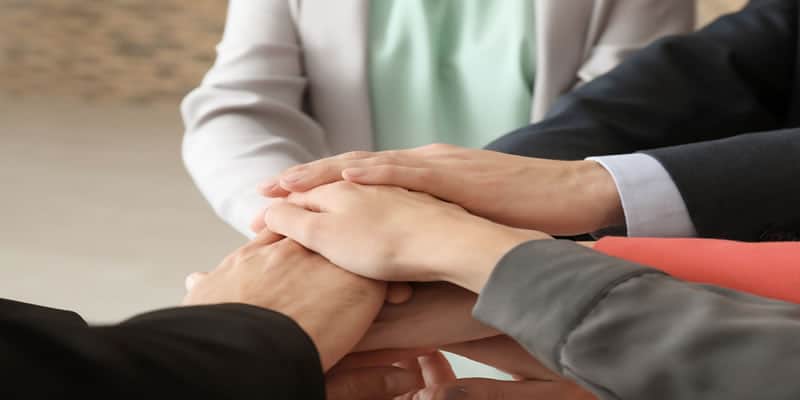 Customers are much aware of online shopping scams– and are careful when doing business online.
The first thing they look at before buying anything is to check if a business has an online presence.
If it doesn't have, they mark it as untrustworthy until they establish that it's trustworthy.
Digital marketing offers small business owners a great opportunity to engage with their customers online.
Small businesses can also use free advertising sites to reach their target customers without paying a dime.
Digital Marketing Helps Small Businesses to Identify Customers' Needs
To run a successful business online, you need to identify what your target customers need then fulfill it.
Unfortunately, small businesses aren't well-equipped (with tools, resources, and tactics due to lack of adequate finances) to identify, attract, engage, and convert leads into customers.
Effective digital marketing enables small businesses to interact with customers online, learn their habits to better target them with the right information and offers.
The good news is that there are tons of digital marketing tools such as SEMrush, Google Analytics, Survey Monkey, Google Search Console, etc. to identify what your customers are searching for.
Final Thoughts
What are you waiting for? Digital marketing is the way to go.
With tens of thousands of marketing tools- both free and paid, digital marketing is highly effective and allows small business owners to research, connect with their target audience in a more personal way.
If you had been wondering why digital marketing is important for small businesses, we hope this article answers your question.
Still have a question about this topic?
Leave a comment below and we'll gladly respond to it.
Happy marketing!