What Are The Different Types Of Digital Marketing Channels
With over 4.8 billion people (approximately 62% of the world's total population) using the internet worldwide, learning how to promote your products across multiple digital marketing channels isn't optional anymore.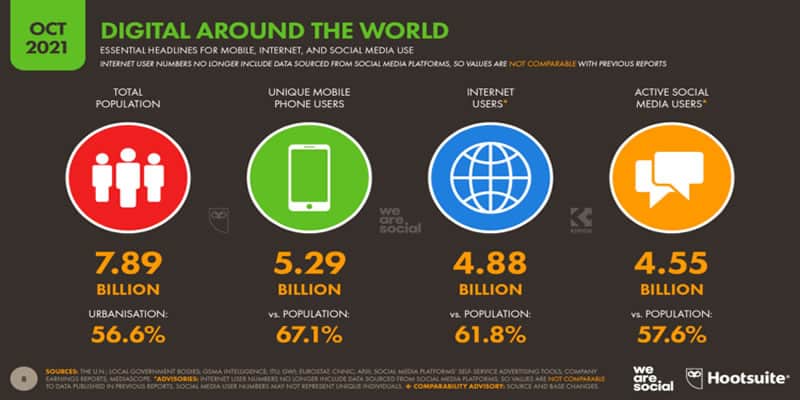 Internet users around the world 2021
(Source: DataReportal)
However, if you're a newbie in the digital marketing landscape, you can be overwhelmed with the different types of digital marketing channels out there.
You don't have to.
Granted, digital marketing has become one of the must-have tools for businesses that want to stay ahead of the competition while staying relevant.
In this article, we're going to outline 10 different digital marketing channels that get results.
But before that let's understand the digital marketing definition.
Understanding Digital Marketing
What is digital marketing?
Digital marketing, also known as online marketing refers to all forms of marketing or advertising activities carried out through digital channels like social media, mobile apps, websites, and email using computers, mobile phones, tablets, and other electronic gadgets.
These days, customers depend on digital technologies to research relevant products before they buy anything online.
For instance, a study by Think with Google suggests that 48% of customers start their search for products on search engines, 33 use brand websites, and 26 use mobile applications.
Unlike other traditional forms of marketing, digital marketing channels allow brands and their consumers to engage in a personal way.
With over 4.48 billion social media users, businesses have a great opportunity to connect with more prospects in real-time.
What Are Digital Marketing Channels?
Digital marketing channels are platforms that allow businesses to promote, market, or sell their products, ideas, or services to their target audience.
Different digital marketing outlets are suitable for certain types of audiences.
Why Digital Marketing is Important for Your Business
What is the importance of digital marketing for businesses?
The first-ever web-based banner ad was made in 1994 by AT&T with a copy that read "Have you ever clicked your mouse right HERE? YOU WILL". In just four months after the banner ad was posted, 44% of internet users had clicked on it.
Fast-forward to 2021, the digital industry has evolved and grown tremendously.
Consumer behavior has also changed significantly.
Customers prefer to shop online than ever before.
Google is currently the most popular search engine where customers search for answers to every question they have.
Over 2.1 billion people worldwide purchase goods online.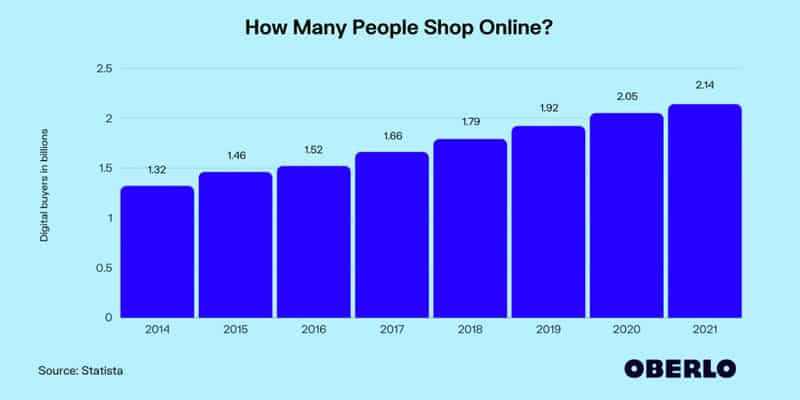 Number of online shoppers worldwide
(Source: Oberlo)
To cater to the needs of these online buyers, businesses need to embrace digital marketing.
Even though traditional marketing methods work, they cannot help businesses achieve the same results today.
Here are the benefits of digital marketing for your business:
Digital marketing increases customer loyalty
Generally, it's more costly and difficult to attract and convince a new customer to take action on your products than to retain an existing one.
82% of brands agree that customer retention is cheaper than acquisition.
This is where customer loyalty becomes useful.
Customer loyalty is how you convince and convert a new customer as well as retain that customer after the sale.
Retaining customers means great deals.
They can either continue buying from you or recommend your products or services to others which leads to reduced costs of advertising.
Besides, almost 65% of a business's profits come from repeat customers.
The good thing about digital marketing is that it allows business owners to keep in touch with their customers at all times through personalized emails, social media engagement, etc.
Digital marketing is cost-effective
Digital marketing is more cost-effective when compared to many traditional marketing strategies.
For instance, for local televisions, you can expect to pay a minimum of $5 per 1,000 viewers for a 30-second commercial.
On the other hand, hiring a digital marketing agency could cost you between $750 and $1,500 per month.
Digital marketing can also bring a huge ROI if done correctly.
Digital marketing allows businesses to reach the right audience
Another reason why digital marketing is a must-do for your business is that it allows you to reach your potential customers.
In other words, with digital marketing, you can meet people who are looking or interested in your products or services which makes it easier for you to convert them into customers.
Measurable results
With traditional marketing, measuring the results of your marketing campaigns isn't easy.
For instance, if you used a magazine or billboard to advertise your business, you can't measure exactly how many people saw your ad or the billboard.
Besides, you can't tell which of your ad is effective so you can invest accordingly.
Fortunately, with digital marketing, you can measure everything worthwhile thanks to analytics tools like Google analytics, form analytics, and more.
Increased credibility
Credibility in business is essential in helping your company attract employees as well as customers and investors.
The good news is that with the internet, you can gain credibility and sustainability quickly.
This is especially true with content marketing. Brands with websites and blogs that are updated with fresh content regularly appear more credible to customers.
Through content marketing, a business can clarify essential concepts, address customers' concerns, etc.
Publishing useful and interesting content helps a brand to win the trust of its customers plus industry experts.
Increased reputation
Today, if your business doesn't have a strong, active online presence, your reputation suffers. That means that you're giving your competitors the edge over you.
With digital marketing, you can actively engage with your customers, listen to and address their concerns, etc. This way, you build a good reputation for your business.
Your competitors are already doing digital marketing
If you're still unsure why digital marketing is important, your competitor is already doing it.
Many businesses are already advertising and engaging with their customers on social media- and many are optimizing their websites for SEO while others are running paid advertisements.
If you're not using digital marketing then you're missing out a lot on great business opportunities that your competitors are taking advantage of.
Digital marketing has an impressive ROI
Businesses get an ROI of $40 for every $1 they spend on email marketing- an ROI of 4,200%.
The reason for generating a great ROI is that digital marketing is cost-effective- you don't have to spend much money to run a PPC campaign or social media ad campaign.
Granted, digital marketing is a valuable asset to your business' success and growth. If you invest in digital marketing, you help your business grow while meeting your customers' needs and expectations.
That said, let's learn about the different digital marketing platforms there are out there.
10 Different Types of Digital Marketing Channels
The ten most effective digital marketing channels are:
Search Engine Marketing – Google Advertising
Search engine marketing is so effective that advertisers are expected to spend $99.22 billion on search by 2024.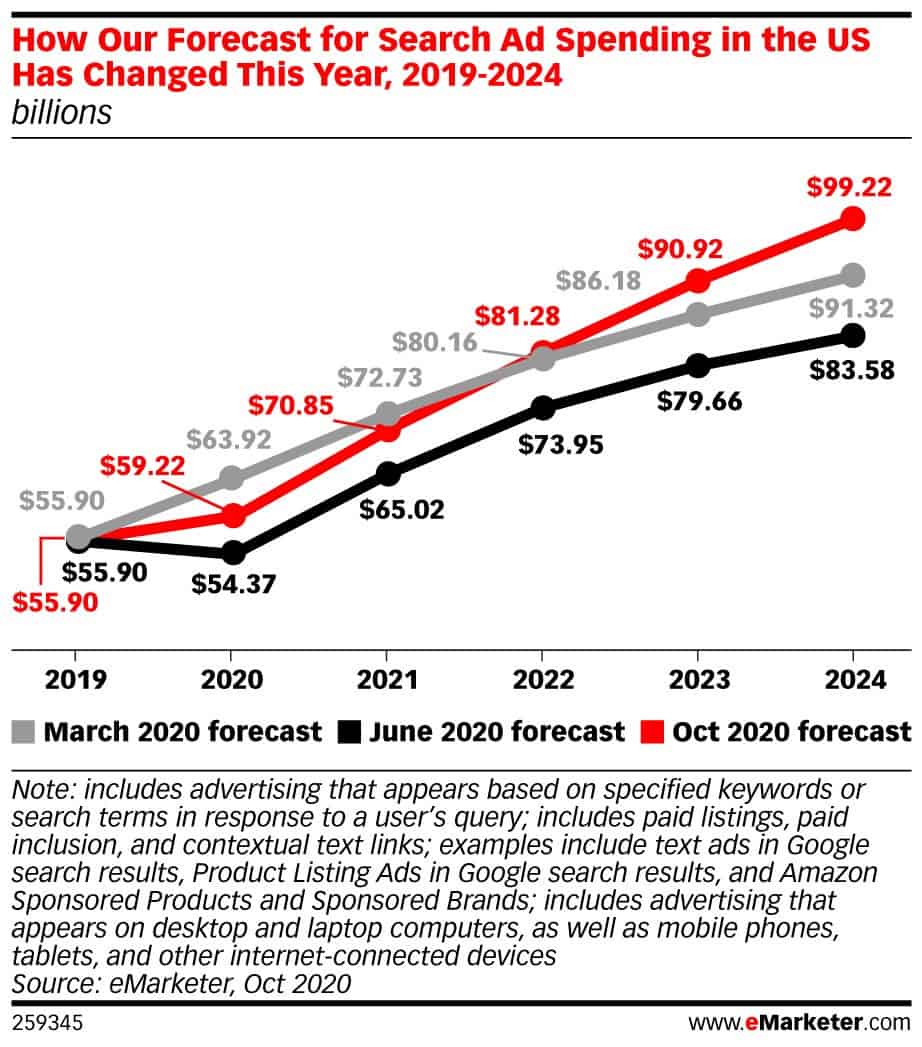 Search ad spending projections by 2024
(Source eMarketer)
Search engine marketing- SEM and search engine optimization- SEO are two digital marketing strategies that can be confusing.
While they both involve the use of search engines like Google or Bing, the two types of digital marketing are different altogether.
For instance, SEO is how marketers rank their websites for specific keywords whereas SEM is how brands drive their website traffic from search engines using paid ads.
Search Engine Marketing uses Google Ads and Bing Ads. In this case, marketers pay to get their ads displayed on search engine results pages the same way organic search results are displayed on Google but at the top of the search results- and with an "Ad" label. SEM increases brand visibility and awareness.
The good thing about search engine marketing is that it's easy to create targeted ads based on keywords the searcher's location.
This implies that you can create ads targeted to a specific demographic or region.
You can also target competitor keywords and channel their website traffic to yours as well.'
Another good thing is that your customers are already searching for information about products or services they are interested to buy on Google.
While improving your organic search traffic helps, you also need to use Google ads as a supplement to your organic SEO efforts. After all, organic SEO efforts can take a while to deliver real results.
When you use search engine marketing, you target keywords that your potential customers are probably using to find products or services like yours. That implies that anyone clicking on your Google ads is more likely to be interested in doing business with you.
Content Marketing
Content marketing, albeit being an indirect digital marketing channel, is a powerful strategy for marketers of all types.
Statistics can back up this.
72% of marketers say that content marketing generates more engagement, and 72% say it has increased their leads – HubSpot.
70% of marketers are hugely investing in content marketing.
87% of marketers say content marketing has helped them meet their brand awareness goals – Statista.
Content is the backbone of every other type of digital marketing campaign you execute.
Whether it is email marketing, social media marketing, or affiliate marketing, you will need to create high-quality and interesting content to make your campaigns effective.
Content marketing encompasses the creation of content either video, GIFs, images, info graphics, eBooks, and more to educate, entertain, and convince your customers to take an action towards your products or services.
The whole idea around content marketing is to feed your audience with content it is searching for to influence them to take a specific action- purchase your products, sign up to your newsletter, join a course, etc.
There are many benefits of publishing high-quality content on your website, social media, etc.
For instance, high-quality content can drive organic traffic to your website. Google favors websites that publish high authority content.
That means that your website will be shown high up in the search result pages which leads to increased organic traffic.
Content is also "king" in that it delivers a great ROI. 41% of marketers say that content marketing has a significant ROI.
Besides, when you publish high-quality content, you establish yourself as an authority in your industry.
Content marketing is great for lead generation as well since people coming to your site are interested to read more about your products or services hence it's easy to convert them into paying customers with a good strategy.
Social Media Marketing
Another one of the 10 different types of digital marketing channels is social media marketing.
Social media has evolved from a channel that people used to connect with their family and friends to something bigger and better.
Today, businesses can promote their products or services to potentially billions of potential buyers and engage with them in a more personal and authentic way.
As the name implies, social media marketing –SMM encompasses the use of social media platforms to connect with prospective customers, market your business and engage with potential customers.
Just check how many social media users you can reach out to on the three popular social media platforms: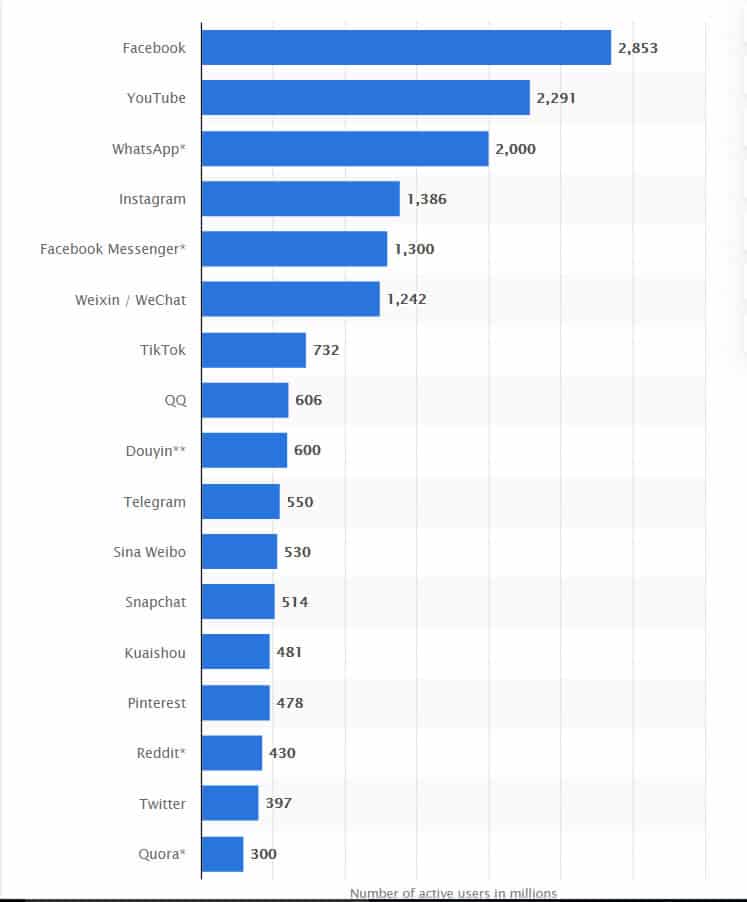 Popular social media platforms worldwide- and the number of users in each platform
(Source Statista)
As you can see, directing your efforts toward organic social media marketing can generate great results for your business since 55% of customers search for products or services via social media.
It's worth noting that successful social media marketing campaigns are founded on creating shareable content. You should also understand that social selling isn't solely about selling or promoting your brand. It entails building a strong, positive relationship with your target audience first then sales will come later.
The good thing about social media marketing is that it fosters two-way communication between your brand and customers.
Your social media followers can comment, ask questions, like your posts or engage with your content.
Email Marketing
Apart from versatility, email is one of the powerful types of digital marketing channels that delivers a great ROI.
Even though email isn't among the latest technologies available, it allows you to promote your brand, build relationships, customer loyalty, and get valuable feedback from your customers.
87% of marketers use email marketing to distribute their content ~ Oberlo
Besides, with email marketing, you can use the latest trends in content marketing including automation and personalization without overstretching your budget.
The trick is to follow the best email list-building practices that include creating engaging email marketing content targeted to your audience or customers, using enticing subject lines, personalizing your email marketing campaigns, and planning the best time to distribute an email blast.
The good thing about email marketing is that there are many types of emails you can send.
Email marketing increases brand awareness and conversion and is also a powerful tool for lead nurturing.
Audio Marketing
Audio marketing or advertising is perhaps the latest type of digital marketing stirred by the COVID-19 pandemic.
Statistics suggest that US audio advertisers will spend a whopping $5.59 billion on digital audio services in 2021.
As home listening soars, podcasts are booming, and smart speakers are surging.
What is Audio Marketing? 
Audio marketing is a form of digital marketing where businesses use audio to advance their key goal and results instead of written or visual content.
More than three-quarters of internet users already listen to digital audio. Besides, more consumers spend more time listening to digital audio as opposed to radio.
There are many ways to boost your brand strategy with audio marketing.
For instance, you can convert your blog posts into audio, create your own branded podcasts, create and stream live audio on social media channels, etc.
Audio marketing encompasses the use of the following:
Voice search
Voice-enabled advertising
Podcasts
Alexa skills
Video Marketing
There are many pieces of content your audience actually wants to see your brand creating, and video is at the top.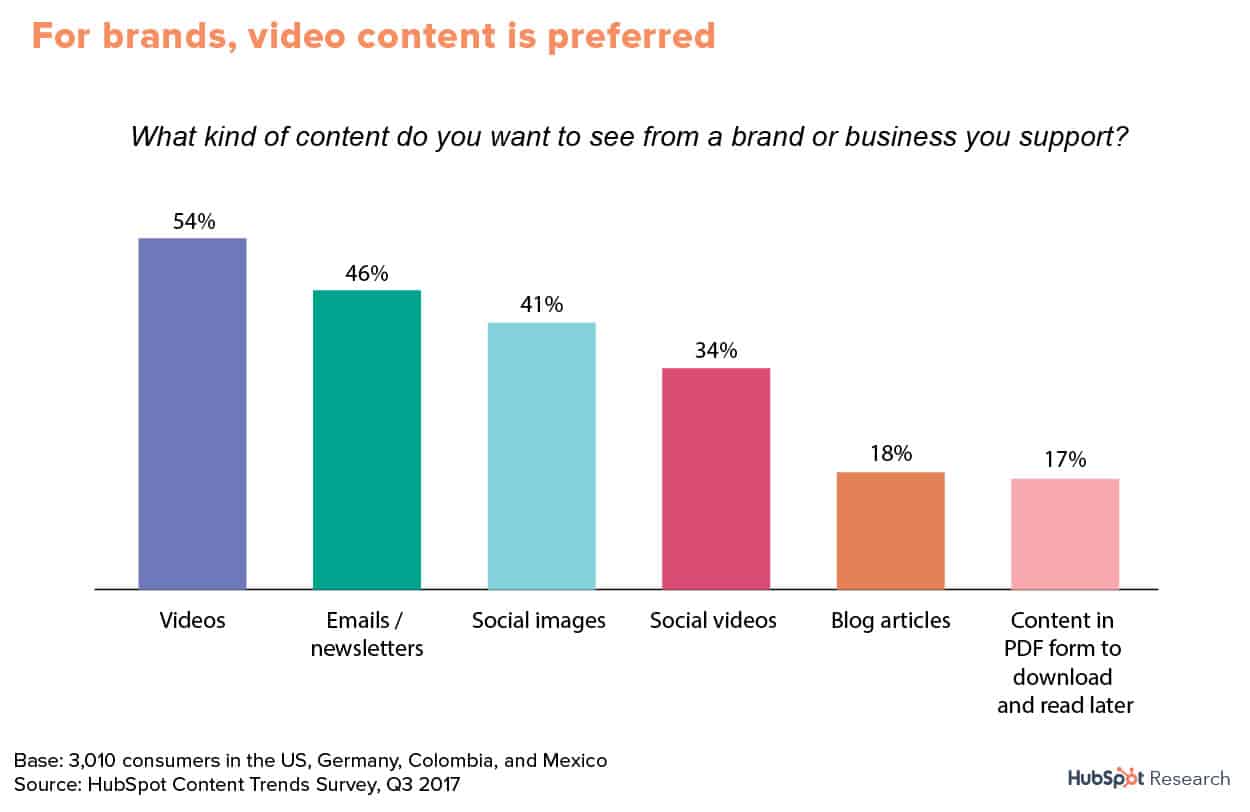 Pieces of content your audience actually wants to see
(Source: HubSpot)
say they have been convinced to purchase a product or service after watching a brand's video.
Video content is 1200% more effective than other types of content.
When done right, video can be an extremely powerful digital marketing asset.
With video marketing, you can educate your target audience, promote your brand, increase traffic to your website, and even encourage engagement.
The good news is that there are different types of video content you can create from demo videos to educational videos, as well testimonials, and more.
Mobile Marketing
The number of mobile users keeps on increasing each new day. In 2021, there are over 7 billion mobile phone users globally. The number is projected to rise to 7.2 billion by 2022.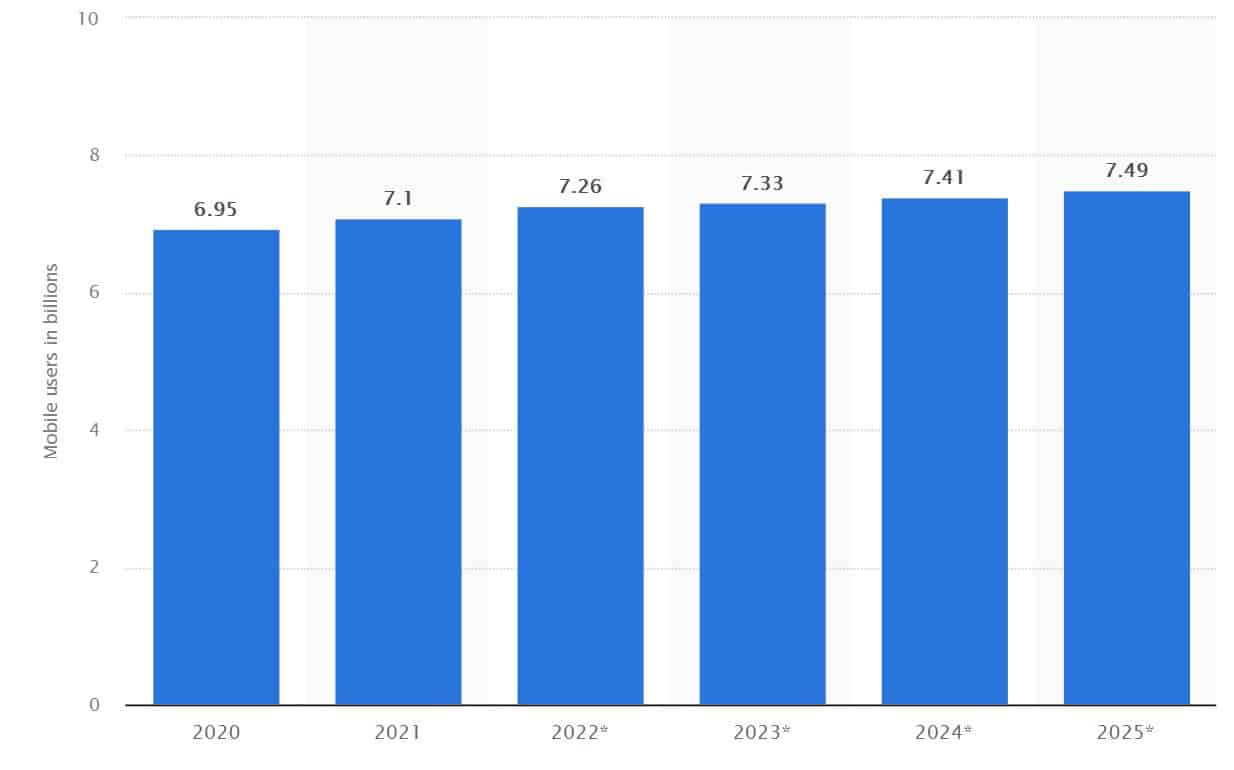 Mobile phone users worldwide projections
(Source: Statista)
If you're not using this digital marketing channel then you're missing out on 54.25% of traffic that comes from mobile users. For your information, mobile phone traffic surpassed desktop a long time ago. Today, over half of all video views happen on mobile devices.
If you want to run a successful business in today's digital world, you've got to serve promotional content to mobile and desktop users as well.
What is mobile marketing?
Mobile marketing is a digital marketing strategy that involves promoting your products or services to appeal to mobile device users. In other words, it is marketing or brand promotion that's done on smartphones, tablets, and other mobile devices through email, MMS, websites, apps, SMS, and social media.
When done right, mobile marketing can help you to increase sales.
The good news is that you can use different types of mobile marketing such as mobile banner ads, mobile app marketing, SMS, in-game advertisements, voice marketing, Bluetooth marketing, etc.
Affiliate Marketing
Affiliate marketing is one of the most lucrative types of digital marketing channels out there.
It's currently a multi-billion dollar industry with projected spending of $8.2 billion by 2022.
This type of marketing involves partnerships between affiliate marketers and brands (product owners or businesses), where an affiliate marketer promotes a brand's products or services by referring them to a vast network of audience they have created through social media, websites, blogs, etc. to earn a commission from every successful sale or lead generated.
When done right, affiliate marketing can generate more leads and increase sales.
Currently, the most popular affiliate program is Amazon Associates.
Display Advertising
The latest marketing research reports put US display advertising spending at $108.53 billion in 2021, a whopping 27.5% growth from the previous year. Besides, the global digital advertising spending is projected to cross $333 billion this year.
It's no doubt that display advertising adoption is increasing significantly each year.
What Is Display Advertising?
Display ads have evolved drastically since 1994. Studies suggest that the average internet user sees between 6,000 and 10,000 display ads per day. The number of display ads placed on the web is overwhelming. That explains why 42.7% of internet users use ad blockers on their devices.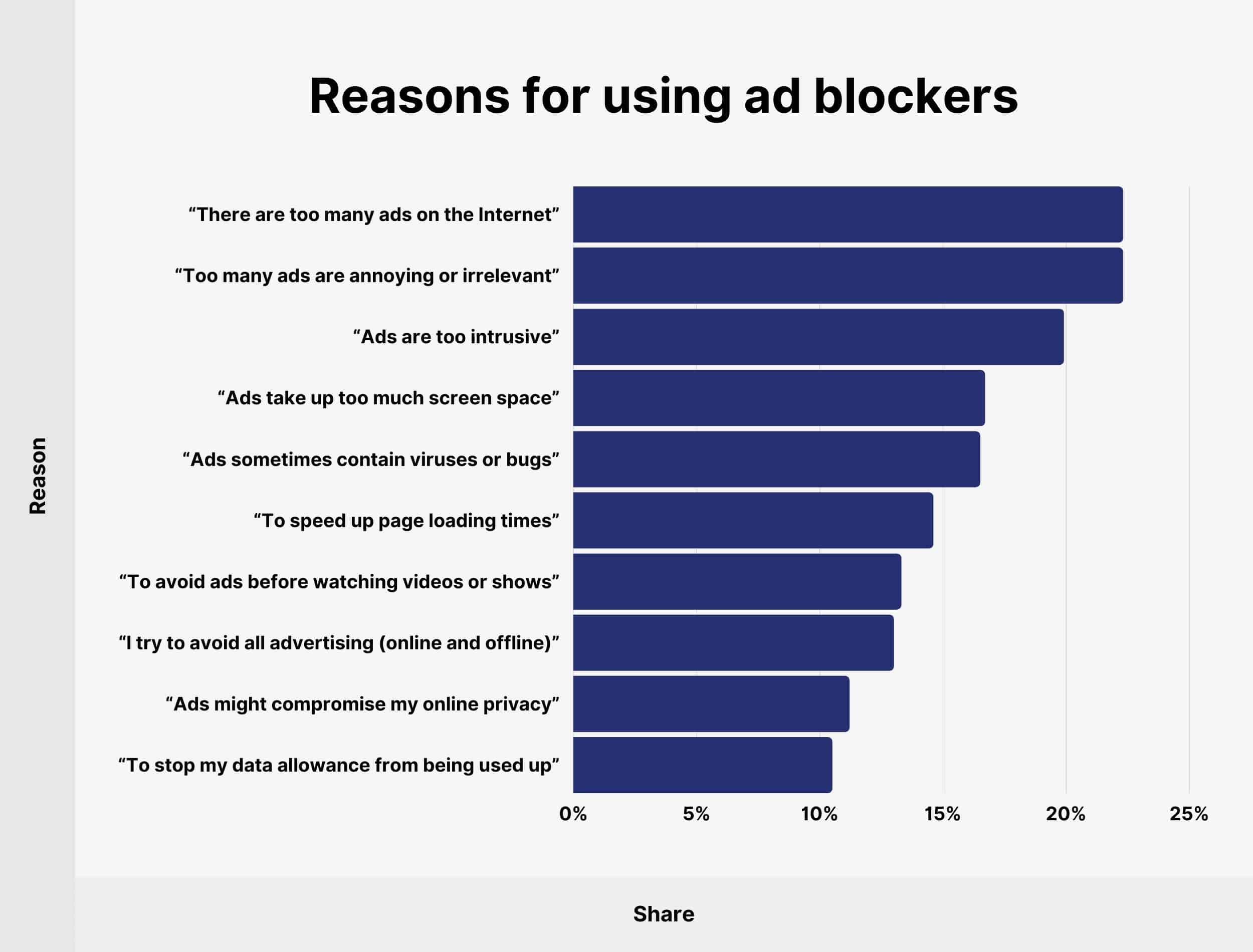 Reasons for increased adblocker usage
(Source: backlinko.com)
Too many ads on the internet, the threat of malware, too many annoying or irrelevant ads, slow website loading time are some of the reasons for the increased adblocker usage.
However, this doesn't mean you shouldn't create display advertising campaigns. As long as you create display ads that target the right users with the right message, there is no point in getting afraid of using digital ads to create brand awareness and increase your ROI.
That said, what is display advertising?
Display advertising is a mode of online advertising products or services using visuals such as banner ads, images, and videos on different platforms like Facebook, Google Display Network, websites, apps, etc.
A display ad looks like the image below: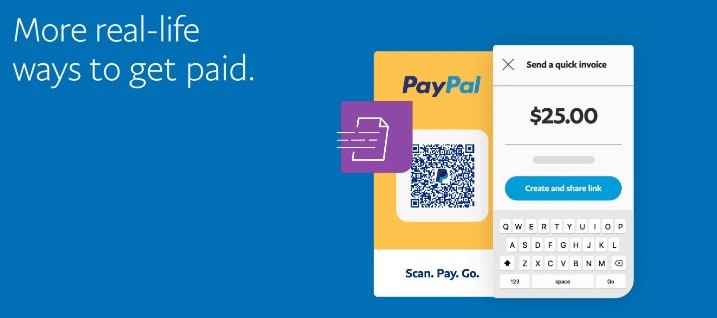 You can also take a look at some remarkable display ad examples in this article.
Types of Display Advertising
As stated above, display adverting encompasses the use of visuals to get across an important message of the campaign to the right audience to automatically attract the audience's attention to the ad when they land on a website, social media platform, etc.
Here are the common types of display advertising to use in your future campaigns.
You must have come across banner ads when using some websites on the internet since this is the most popular display advertising format used by businesses out there.
They appear in the form of a banner, hence the name banner ads. You can find these types of advertising formats at the top of a webpage.
30% of internet users say traditional banner ads are distractive. This has forced advertisers to explore more innovative ways of displaying their ads hence the reason why rich media ads were born.
Generally, rich media ads involve an amalgamation of interactive elements such as text, audio, video, animations, and clickable elements.
An interstitial ad is a type of display advertising that covers the entire screen on a host app or website. These types of ads appear after a certain activity or between levels on video games.
Typically, interstitial ads are used to promote games, social and entertainment apps. These types of ads cannot be blocked with an ad blocker hence the reason why they are effective.
When a user encounters an interstitial ad, they only have two options: to click it and be directed to the advertiser's intended location or close the ad and go back to the game, app, or host site.
Albeit being more expensive, video ads are extremely effective than all types of display advertising mentioned here. A 2019 study suggests that video ads are the number one way customers discover a brand they later purchase from. Currently, YouTube and Instagram allow advertisers to run video ads and draw a lot of attention and engagement.
This article shares 20 creative video ads advertising examples to inspire your creativity.
Influence Marketing
Even though more than two-thirds of online customers use ad blockers, a bigger percentage of them are willing to buy products or services recommended by influencers. In fact, 80% of consumers have purchased items based on influencers' recommendations. Besides, 89% of marketers say influencer marketing is better than other types of digital marketing channels.
This implies that influencer marketing is crucial in today's social media world.
So what is influence marketing? Influencer marketing is a type of digital marketing that uses influencers for brand promotion. This type of marketing involves endorsement and product placement from influencers who are perceived as opinion leaders or experts in their industries.
Influencer marketing can include the use of the following:
Giveaways hosted on the influencers' platforms.
Product reviews on influencers' platforms or social media.
Product placement in high-quality content.
Promoting events where your brand attends.
Using influencers to create high-quality and interesting content like blog posts, videos, memes, infographics, etc.
There are different types of influencer marketing such as sponsored content, social media takeover, brand ambassador programs, affiliate marketing, etc.
There are also different types of influencers such as micro-influencers, macro-influencers, and mega-influencers.
Which is the Best Type of Digital Marketing Channel?
With so many types of digital marketing channels out there, it's easy to get overwhelmed with choice and confused. But don't!
No matter how many digital marketing channels there are out there, you still have limitless possibilities for your business.
The good news is that you don't need to use all types of digital marketing platforms- neither should you hyper-focus on just a single channel.
Test out one or a few, measure the results then determine which ones produce your desired results so you can invest your time, resources, and money accordingly.
Still have any questions or concerns about the different types of digital marketing channels? Leave a comment below and we'll be happy to respond.
Happy digital marketing!