Difference Between Local SEO vs. Organic SEO?
As an internet user, you must have encountered local SEO and organic SEO. Search engine optimization makes it easy to reach your target audience. Local SEO and organic SEO share similarities, but they also differ to some extent.
You must be wondering, is there a difference between the two? Don't they deliver the same results? But, you do not have to worry about this anymore.
What's in it for you from this guide? We'll take you through the definitions of each and the differences as well. By the end of it, it will be easier for you to convert clients online and drive traffic to your local store.
So, let's get to it!
What is Local SEO?
Before we define the term local SEO, let's start by looking at an example. The screenshot below shows Google search results for 'athletic shoes in Seattle.'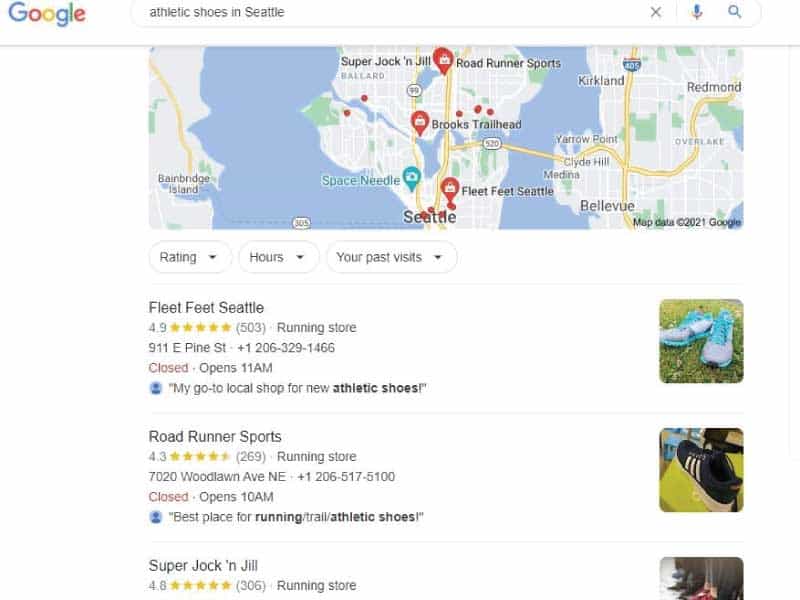 So, what do you notice from the image? The results display specific websites with ratings, addresses, phone numbers, time, and product types.
In simple terms, local SEO is optimizing a business website to increase visibility in a local search. This type of SEO is geographical or location-centered. It targets a local customer and area.
Local SEO Strategies
As mentioned earlier, this type of SEO helps to increase online visibility in a local search. Local intent on Google accounts for 46% of all searches, translating to 1.6 billion daily searches.
So, do you want your website to be part of the statistics? Then, consider implementing the local SEO strategies below:
Earn citations from relevant and high-quality websites on the internet. You can find such references from online platforms like Reddit, Yelp, and Yahoo.
Include your business name, phone number, and address on your website. Also, make sure that you add your business hours to the website.
Create a listing for your business on relevant platforms like Google my Business (GMB), Google Maps, and Apple Maps.
Optimize your website around geographical or local listing keywords.
What is Organic SEO?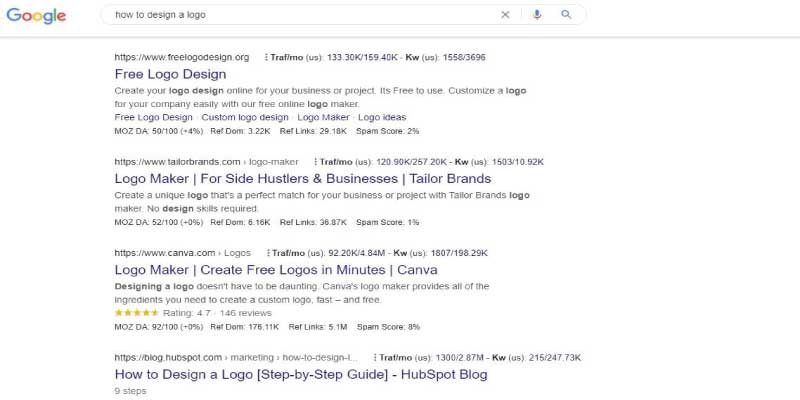 As an internet user, you've come across such results on search engines. Now, this is organic SEO.
Unlike local SEO that depends on local listings, organic search is the opposite. It is a way of optimizing blogs, articles, social media posts, and general content to rank on the top pages of search engines.
Organic search increases the visibility of a website to rank on search engine result pages without using paid efforts like ads.
Organic SEO Strategies
Google search algorithm uses over 200 factors before ranking a website. Optimizing a website for organic SEO increases its chances of ranking on the top pages of search engines.
But, how do you go about organic SEO? Check out the strategies below:
Optimize your website around keywords within your niche. Avoid stuffing your content with keywords to enhance its readability.
Create high-quality content that gives value to the readers.
Design a mobile-friendly website that is responsive on various devices.
Include meta descriptions on your website. It helps users and Google to understand the content on your pages.
Optimize your website for speed. A website should display content after 2-3 seconds. Otherwise, it will increase the bounce rate.
Earn backlinks from relevant, high-quality websites within your niche to increase your domain authority.
Add images and include alt attributes in case the image fails to load.
What is the Difference Between Local vs. Organic SEO?
From the definitions, you can already point to the differences between local SEO vs. organic SEO. Local SEO increases visibility on a local search, unlike organic SEO.
For your website to make it to the top pages on Google, you need to optimize it for organic SEO. That is, optimize it around off-page, on-page, and technical SEO.
However, that's not the only difference between local SEO and technical SEO. Check out the comparison table below:
Factors
Local SEO
Organic SEO
Content
The content may not always be about giving value. It should highlight business information like the name, address, phone number (NAP), and time.
The content should resonate with the readers. Make sure you're providing a solution to a searcher's query. For example, how to design a WordPress website.
SEO cost
The cost is lower as you are dealing with a single website. However, the cost may change based on the number of locations of your business, competition, and what you offer.
The cost is higher as you're dealing with multiple websites. You may need to hire an SEO manager or purchase optimization tools.
Audience
People within a local specific location. That is a local audience. Local SEO is associated with a brick-and-mortar business.
Organic SEO is for anyone interested in what a business has to offer. It's not associated with a brick-and-mortar business.
Ranking Factor
A major ranking factor for local SEO is the business listing. Other ranking factors are backlinks, citations, NAP, and reviews.
It relies on keywords, backlinks, title tags, meta descriptions, header tags, page speed, and content optimization. That is, on-page, off-page, and technical SEO.
Citations & backlinks
Citations work for local SEO. That is the mention of business name, location, and phone number.

Citation increases the relevance and authority of a website.

Backlinks have an essential role in organic SEO. They increase the authority and relevance of a website. It also improves visibility on search engines.
SERPs
Although local results appear in SERPs, they appear on local listings and maps.
The results appear on search engine result pages.
Benefits of Local SEO vs. Organic SEO
Whether you're using local SEO or organic SEO, there are benefits to using each. Having a digital footprint increases your website's visibility.
Most consumers begin shopping online before making a final purchase. 63% of the purchasing starts online, while approximately 50% shop on mobile devices. Optimization drives traffic to your website.
But, how do you know whether local SEO or Organic SEO works for you? Let's find out the benefits of each.
Benefits of Local SEO
Local SEO improves the visibility of a business in a local search.
It generates website traffic.
Local SEO makes it easy for the customer to discover your website online.
Local SEO is cheaper compared to paid search.
Most customers looking for solutions using a local search are likely to convert. That is, they may visit your shop for offline services or make a phone call.
Local SEO search results display your website reviews and ratings. With this information, customers can decide by checking the reviews.
Including accurate business information can have Google ranking your website in search results – depending on the searcher's query.
Search engines display websites with trusted locations.
Citations on forums and other websites increase the relevance and authority of a business.
Benefits of Organic SEO
Organic SEO improves a website's ranking on search engine results pages. There are other benefits of optimizing a website for organic SEO. These are:
It is cheaper compared to paid search.
Google displays websites with trusted and relevant content on SERPs.
Organic SEO does not depend on location like in local SEO. The results are influenced by the searcher's query.
It is easier to measure the performance of organic SEO.
Organic SEO generates traffic to your website.
Organic SEO works for various content types like blog posts, news, and articles.
It is not associated with Brick and Mortar, like in local SEO.
Similarities between Local SEO and Organic SEO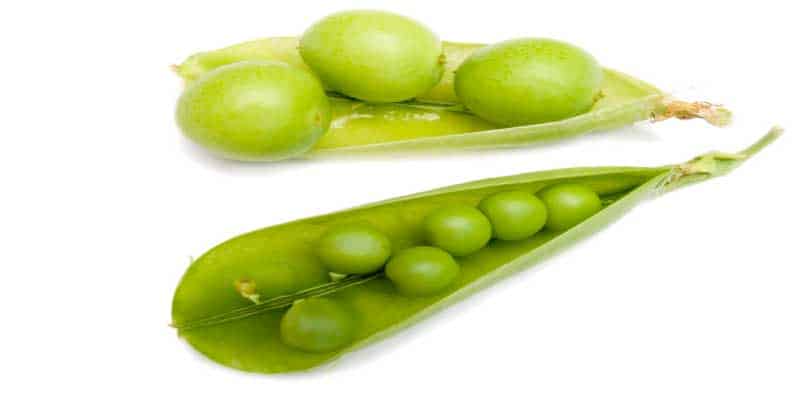 Depending on your business, you can use both local SEO and organic SEO to increase visibility on search engines.
For example, if you have a physical address to your business, you can optimize for local and organic SEO. Such that, if a user's search intent was for a local search, your store should appear on the search results and vice versa. Here's how the two compare:
Local and organic SEO requires metadata like meta descriptions, title tags, and header tags.
Both should have fast-loading websites.
The website should have a good user experience. That is, easy to navigate, high-quality images, and mobile responsive.
Finally, but not limited to the list, high-quality and relevant content. Make sure that you stick to your niche and optimize around keywords or phrases that increase your visibility on search.
Google will rank a website based on the searcher's query. It checks the relevance of the content before displaying it on SERPs. However, if you're new to SEO, you may have to start with one. That is either organic or local SEO before implementing both.
Which One Is Best For Your Business?
Both local SEO and organic SEO work for all business types, regardless of whether you're a small, medium, or enterprise business. To recap on our definitions earlier, local SEO increases your visibility on local searches.
It targets users searching for a product or service in a specific location. On the other hand, organic SEO targets Google's first page. While both are important, you need to have an SEO strategy for each.
For instance, you need to ask yourself, who is your target audience? Do you meet the user's search intentions? To summarize our guide, here's the main takeaway.
Local SEO is for a business or individual whose target is to drive traffic to a geographical location. In simpler terms, it's for business with a brick-and-mortar or physical location.
With organic SEO, your target is to appear on the top pages of Google. Hence, your SEO efforts focus on driving traffic to your business. It does not depend on a physical location. But, you can use both for your business.
And that's it for local SEO and organic SEO. Over to you now. Which SEO Strategy will you be using? What is your experience so far?